Macron worries about 'war scenes' in Paris during protests
French President Emmanuel Macron likened images of the rioting on the Champs-Elysees at the weekend to "war scenes" on Monday, as dozens of protesters appeared in court over the violence.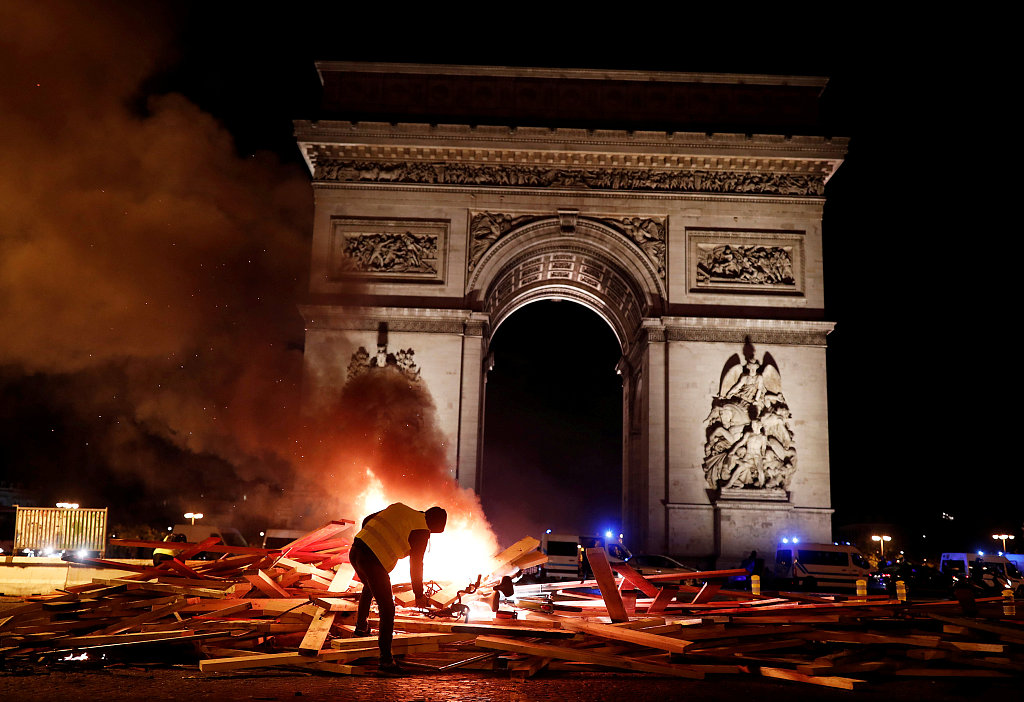 A protester is seen next to a burning barricade during a "Yellow vest" protests against higher fuel prices, on the Champs-Elysees in Paris, France, November 24, 2018. (Photo: VCG)
Barricades were set on fire, luxury shop windows smashed, and traffic lights uprooted on the celebrated avenue in Paris on Saturday as violent groups infiltrated much larger anti-government protests nationwide.
Police fired over 5,000 tear gas grenades -- more than one a minute -- on the capital's most famous boulevard and firefighters put out over 100 fires, leading to spectacular images that were published worldwide.
"One shouldn't underestimate the shock to people, in France and abroad, of seeing in the media what looked like war scenes," Macron was quoted as saying during a cabinet meeting.
The president, who is to address the nation on Tuesday, also criticised elected officials and opinion-makers for defending "vandals" who orchestrated Saturday's violence, spokesman Benjamin Griveaux said.
Many of France's top opposition figures, particularly far-right leader Marine Le Pen, have encouraged the anti-government protesters who have swept France over the last nine days.
Nearly 300,000 people, wearing the yellow, high-visibility vests that have come to symbolise their movement, blockaded roads and blocked businesses on November 17 in largely spontaneous protest against higher taxes on diesel fuel.
On Saturday, around 100,000 turned out country-wide for a second day of protests that have morphed into a broad challenge to Macron's pro-business policies.
Some 8,000 demonstrators took to the streets of Paris. A total of 31 people were injured, including seven police, a local official said.
Dozens of the 101 people detained were to face expedited trials on Monday.
The government has blamed "ultra-right" agitators for much of the violence in Paris.
Budget Minister Gerald Darmanin went as far as to say that those demonstrating "were not yellow jackets" but "the brown plague", an allusion to the Nazis.
Meanwhile, the "yellow vests" announced on Monday that they were setting up an official eight-person delegation to negotiate with the government.
The protesters, who organised by way of social media and have rejected all political affiliation, have won wide public opinion support.
A poll last week showed around 70 percent of people found the protests justified.