California governor says earthquakes are a 'wake-up call'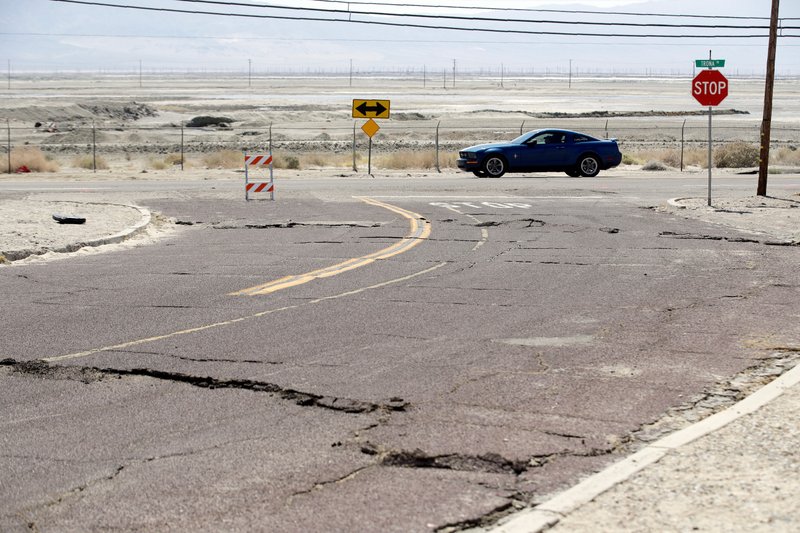 An earthquake-damaged street on July 6, 2019, in Trona, California. Crews in Southern California assessed damage to cracked and burned buildings, broken roads, leaking water and gas lines and other infrastructure Saturday after the largest earthquake the region has seen in nearly 20 years jolted an area from Sacramento to Las Vegas to Mexico. (Photo: AP)
The two major earthquakes that hit Southern California should alert people across the nation of the need to be prepared for natural disasters, the state's governor said as officials expressed relief that the damages weren't worse.
Gov. Gavin Newsom said Saturday that governments must strengthen alert systems and building codes, and residents should make sure they know how to protect themselves during an earthquake.
"It is a wake-up call for the rest of the state and other parts of the nation, frankly," Newsom said at a news conference to update the public on the state's efforts to help the region hit by earthquakes on Thursday and Friday.
Friday's earthquake was the largest one in Southern California in nearly 20 years. Officials voiced concerns about the possibility of major aftershocks in the days and even months to come.
No fatalities or major injuries were reported after the 7.1-magnitude quake, which jolted an area from Sacramento to Mexico and prompted the evacuation of the Navy's largest single landholding, Naval Air Weapons Station China Lake in the Mojave Desert.
The quake struck at 8:19 pm Friday and was centered 11 miles (18 kilometers) from Ridgecrest, the same area of the desert where a 6.4-magnitude temblor hit on Thursday. It left behind cracked and burning buildings, broken roads, obstructed railroad tracks and leaking water and gas lines.