S. Korean president's approval rating hits lowest since taking office: poll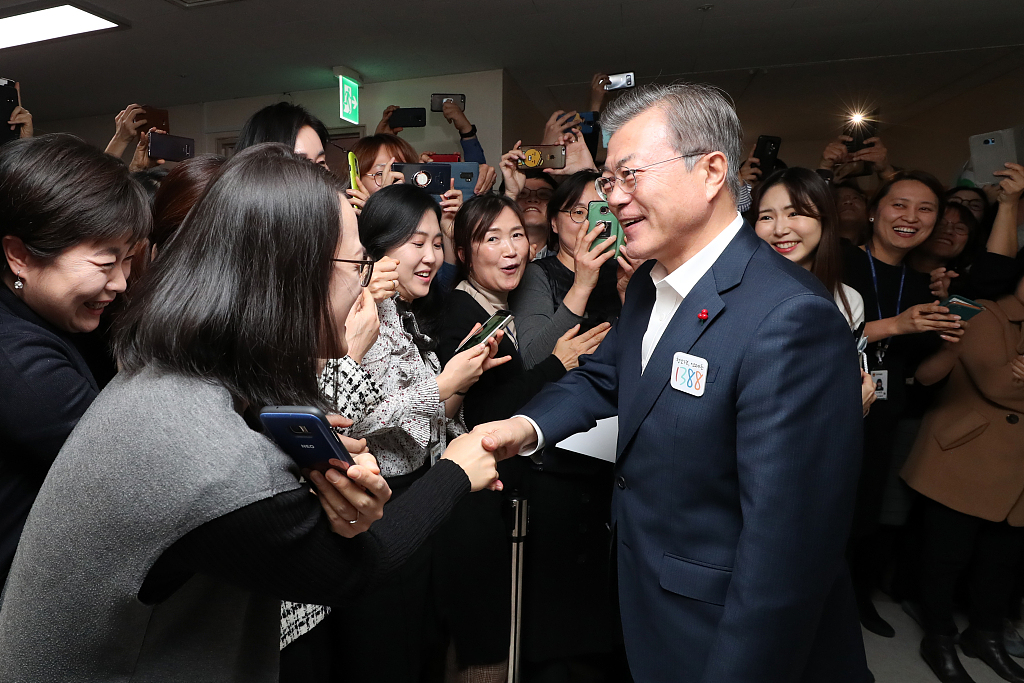 File photo of South Korean President Moon Jae-in. (Photo: VCG)
SEOUL, Dec. 20 (Xinhua) -- South Korean President Moon Jae-in's approval rating hit the lowest since he took office in May last year, a weekly poll showed Thursday.
According to the Realmeter survey, support for Moon shed 2 percentage points over the week to 46.5 percent this week, the lowest since his inauguration. The previous low was 48.4 percent tallied in the fourth week of last month.
The result was based on a poll of 1,507 voters conducted from Monday to Wednesday. It had 2.5 percentage points in margin of error with a 95 percent confidence level.
The decline came as conservative local media outlets continued to report on a former Blue House special inspector who said he inspected on civilians at the behest of the presidential office.
The Blue House strongly denied the claim, saying he was dismissed as the special inspector because of his private wrongdoings. The presidential office sued the former Blue House official with prosecutors.
Moon's ruling Democratic Party won 37.9 percent of support this week, up 0.9 percentage points from a week ago.
It was followed by the main conservative opposition Liberty Korea Party with 25.7 percent of support.
Support for the minor progressive Justice Party fell 0.8 percentage points to 7.9 percent, while the approval scores for the minor conservative Bareun Future Party and the center-left Party for Democracy and Peace came in at 4.9 percent and 3 percent, respectively.