Iran, Iraq to sign currency swap deal to facilitate trade: official
TEHRAN, Nov. 18 (Xinhua) -- Iran and Iraq are in talks to finalize a currency swap agreement in a bid to boost trade ties between the two neighboring countries, a trade official was quoted as saying by Tasnim news agency on Sunday.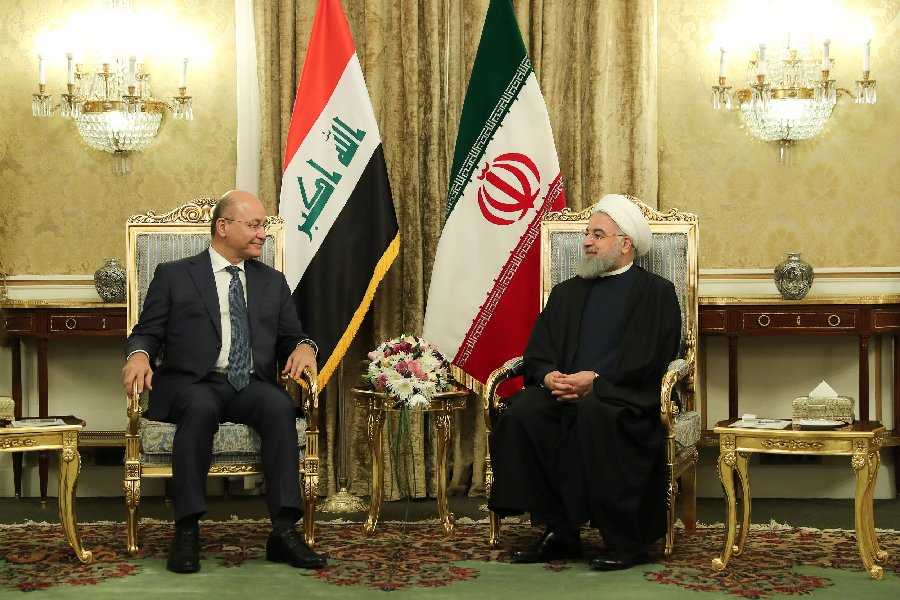 Iran's President Hassan Rouhani (R) meets with Iraq's President Barham Salih in Tehran, Iran, November 17, 2018. (Iranian Official President website)
Iraq is a lucrative market for Iranian goods, and Iranian exports to the Arab country have increased by 30 percent over the past seven months, Yahya Ale-Eshaq, chairman of Iran-Iraq Chamber of Commerce said.
In the mentioned period, goods worth about $6 billion have been exported from Iran to Iraq, Ale-Eshaq said.
He stressed the necessity to finalize a monetary pact between Tehran and Baghdad, saying the central banks of the two countries have held talks to sign a currency swap deal.
A currency swap, also known as a cross-currency swap, is an off-balance sheet transaction in which two parties exchange principal and interest in different currencies.
The purpose of a currency swap is to hedge exposure to exchange rate risk or reduce the cost of borrowing a foreign currency.
Iran's main exports to the neighboring country include agricultural products, foodstuff and fruits such as watermelon, tomato and cucumber.
Other Iranian exports to Iraq include canned food, tomato paste, chicken, egg, meat, construction materials, steel and evaporators.
Iranian President Hassan Rouhani said Saturday that his country would try to raise the level of annual trade between the two neighbors despite the amounting pressures of the United States against the Islamic republic.
"The economic trade between the two countries hits about $12 billion (per year) and, through bilateral efforts, we can raise this figure to $20 billion," Rouhani said in a meeting with the visiting Iraqi President Barham Salih.