UK to work with France on migrants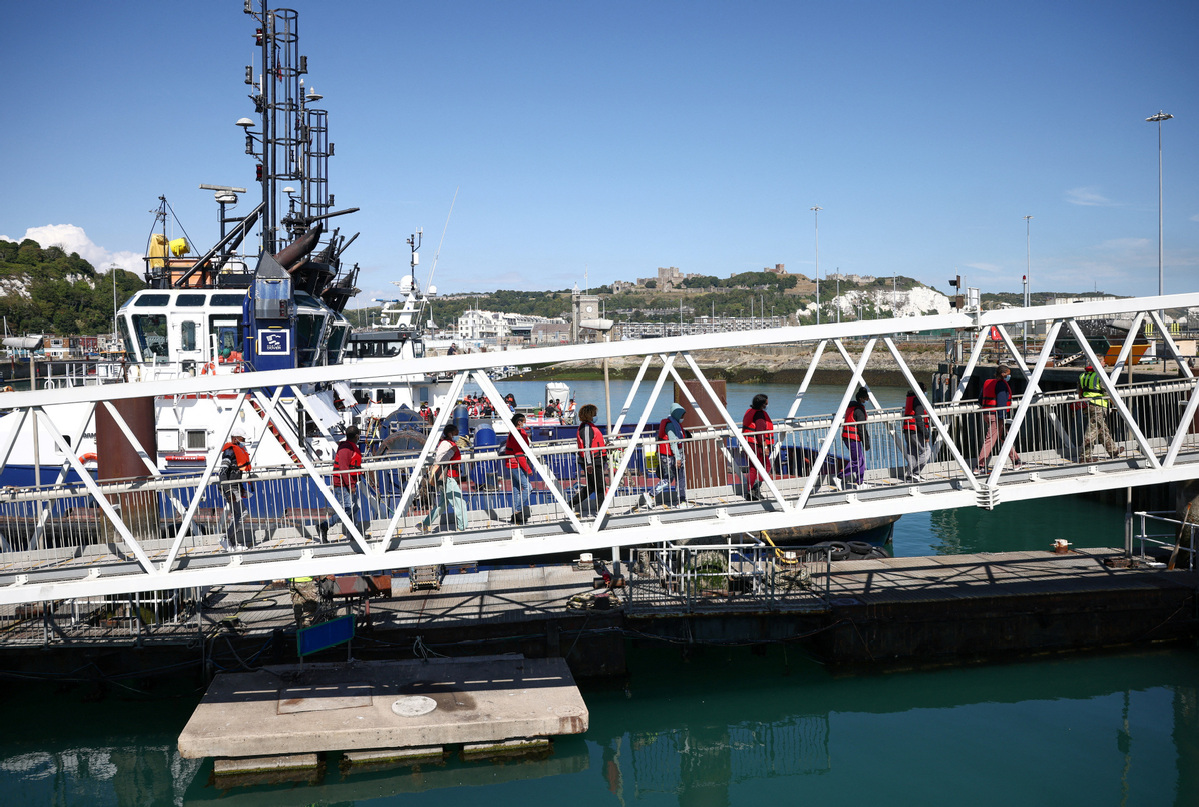 Britain's Prime Minister Rishi Sunak says he looks forward to a more positive working relationship with France over the issue of migrants crossing the English Channel in small boats after his first conversation with the country's President Emmanuel Macron since taking office.
During the summer's Conservative Party leadership race, Sunak's short-lived predecessor in Downing Street, Liz Truss, expressed skepticism about France's intentions toward the United Kingdom, but the outcome of Sunak's first talks with Macron suggests more cordial relations.
"The prime minister stressed the importance for both countries of making the Channel route completely impassable for human traffickers. The leaders pledged to deepen their partnership to discourage the deadly Channel crossings that benefit organised criminals," said a statement issued by Sunak's office, adding that the French had spoken of Macron's "availability" to "deepen the bilateral relationship between France and the UK, notably in the fields of defense, strategic affairs, and energy".
Despite one of the main themes of the Brexit referendum in 2016 having been "taking back control of our borders", a phrase used or referred to by the British government many times since, more people than ever are crossing from northern France to the south coast of England, often in extremely unsafe vessels.
Since January, more than 38,000 people have crossed one of the world's busiest shipping lanes, compared to 28,526 for the whole of 2021, which was itself a record figure.
The Times newspaper reports that Sunak wants an agreement to have quantified targets for boat interceptions, a set number of French agents devoted to monitoring the beaches to stop boats setting out in the first place, and for British border guards to work alongside them. At the British end, he wants to tighten up conditions for the granting of asylum and speed up the bureaucratic process.
Sunak's talk of "the importance of the relationship between the UK and France as a neighbor and ally" is markedly different to the tone adopted by Truss, but his wider approach to the issue of immigration is no less hard-line than his predecessors.
He has backed the policy put forward by former prime minister Boris Johnson to send asylum seekers to Rwanda, an approach that was attempted earlier in the year before being put on hold pending a legal ruling.
Even more contentiously, he has reappointed Suella Braverman as home secretary, after she was fired by Truss on security grounds, but also after reports the pair had had a major falling out over immigration.
The furore about Braverman's reappointment shows no sign of going away, as fresh allegations emerge about security queries raised over her ministerial behavior.
In October, she was widely criticized for comments made at the Conservative Party conference, where she said: "I would love to have a front page of The (Daily) Telegraph (newspaper) with a plane taking off to Rwanda, that's my dream, it's my obsession …(starting by Christmas, it) would be amazing but if I'm honest I think it will take longer."