Thanksgiving dinner this year will gobble up more dollars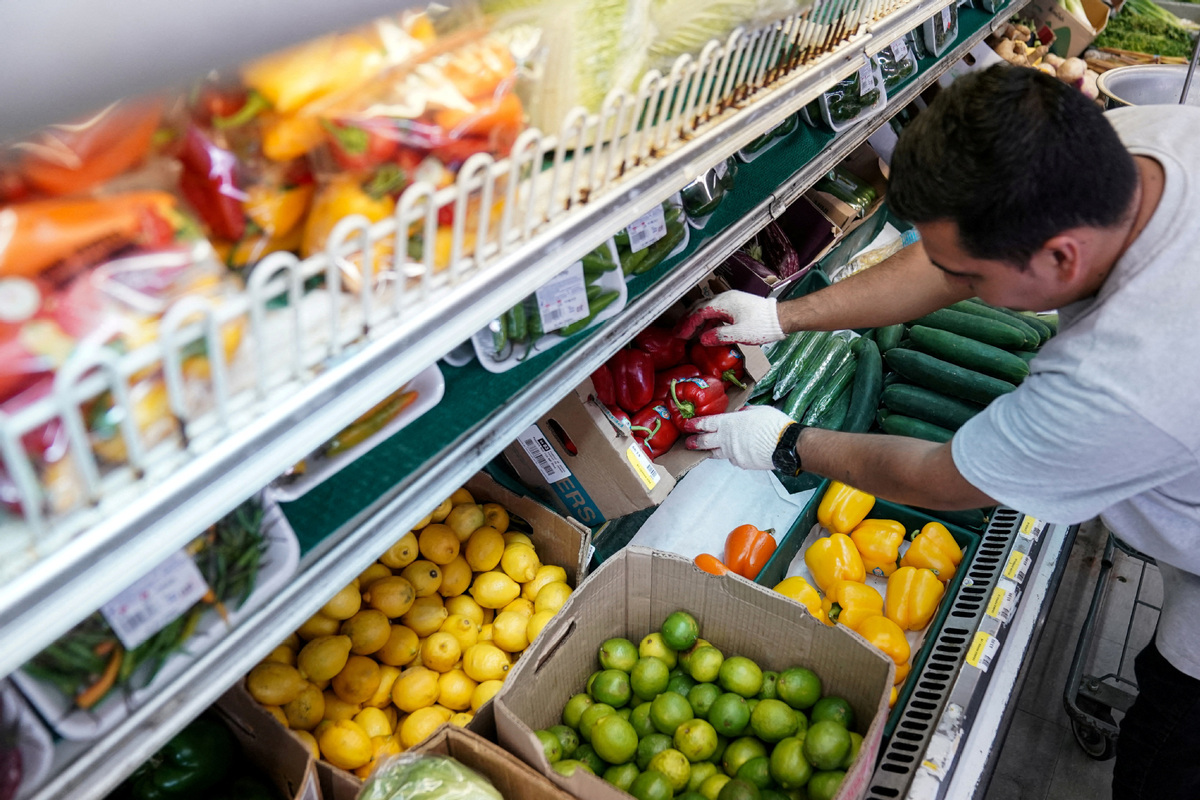 While the rise in US consumer prices eased somewhat in October, the cost of food didn't. And that likely will have an impact on how heartily some Americans celebrate Thanksgiving next week.
Thanksgiving dinner on Nov 24 will cost the average American 20 percent more this year compared to 2021, according to the American Farm Bureau Federation's (AFBF) 2022 survey released Wednesday.
In 2021, a Thanksgiving meal for 10 cost $53.31, according to the AFBF survey. This year, the average cost for a 10-person Thanksgiving is $64.05 nationwide.
"General inflation slashing the purchasing power of consumers is a significant factor contributing to the increase in average cost of this year's Thanksgiving dinner," said AFBF Chief Economist Roger Cryan.
"The higher retail turkey cost at the grocery store can also be attributed to a slightly smaller flock this year, increased feed costs and lighter processing weights," Cryan said.
He said that farmers "are working hard to meet growing demands for food — both here in the US and globally — while facing rising prices for fuel, fertilizer and other inputs".
The cost of the classic Thanksgiving meal was the most affordable in the South ($58.42), followed by the Northeast ($64.02), Midwest ($64.26), and West ($71.37).
Farm Bureau volunteer shoppers checked prices for meals from Oct 18-31, a few weeks before most grocery stores start sale promotions for whole, frozen turkeys.
Below is what the AFBF considers the "classic" Thanksgiving meal, along with the prices: 16-pound turkey: $28.96 or $1.81 per pound (up 21 percent); 14-ounce bag of cubed stuffing mix: $3.88 (up 69 percent); two frozen pie crusts: $3.68 (up 26 percent); half pint of whipping cream: $2.24 (up 26 percent); 1 pound of frozen peas: $1.90 (up 23 percent); 1 dozen dinner rolls: $3.73 (up 22 percent); miscellaneous ingredients to prepare the meal: $4.13 (up 20 percent); 30-ounce can of pumpkin pie mix: $4.28 (up 18 percent); 1 gallon of whole milk: $3.84 (up 16 percent); 3 pounds of sweet potatoes: $3.96 (up 11 percent); 1-pound veggie tray (carrots and celery): 88 cents (up 8 percent); 12-ounce bag of fresh cranberries: $2.57 (down 14 percent).
For an expanded Thanksgiving meal, which includes the classic meal items plus ham, green beans, and Russet potatoes, the AFBF's average cost reached $88.55, up 18 percent from last year.
In early November, Hays Culbreth's mother polled a few family members on Thanksgiving dinner, he told CBS News. She said she could afford to make only two sides for their group of 15 and asked them to vote for their favorites.
Culbreth, 27, figures that green beans and macaroni and cheese will make it to the table, but his favorite — sweet potato casserole with a brown sugar crust — will not.
"Talk about Thanksgiving being ruined," joked the financial planner from Knoxville, Tennessee.
According to a survey by thevacationer.com, two-thirds of Americans are feeling the pinch of inflation when it comes to their Thanksgiving plans.
The survey found that 24.73 percent said they would be affected by higher food costs. The increased cost of travel due to higher gasoline prices or airfares was cited by 16.75 percent. And 25.02 percent mentioned both increased food and travel costs.
Still, 33.5 percent said inflation would not affect their Turkey Day plans.
The owners of Ekonk Hill Turkey Farm in Moosup, Connecticut, are seeing high demand.
"We are finding that we are busier than ever with turkeys," Rick Hermonot, the farm's co-owner, told NBC Connecticut.
The Hermonot family has been raising turkeys for 25 years. Between now and Christmas, they told NBC that they expect to sell 4,000 turkeys.
"This year we raised a few more birds, so we haven't sold out yet, but we are a little ahead of last year on orders," Hermonot said.
While the increase in US consumer prices in October (7.7 percent) was below 8 percent for the first time in eight months, food prices increased 0.6 percent, and the price of food consumed at home rose 0.4 percent. There were increases for meats, poultry, fish, eggs, cereals and bakery products.
Year over year, the food-at-home index rose 12.4 percent, the US Bureau of Labor Statistics, which compiles the consumer price index (CPI), reported on Nov 10.
The index for cereals and bakery products increased 15.9 percent, and the index for dairy and related products rose 15.5 percent. The remaining major grocery store food groups posted increases ranging from 8 percent (meats, poultry, fish, and eggs) to 15.4 percent (other food at home).
In the 12 months through October, the overall CPI increased 7.7 percent after rising 8.2 percent in September. It was, however, the first time since February that the annual increase in the CPI was below 8 percent, and the smallest gain since January.
The annual CPI peaked at 9.1 percent in June, which was the biggest advance since November 1981.
Reuters contributed to this story.