Toys placed outside Colombian Congress to protest child abuse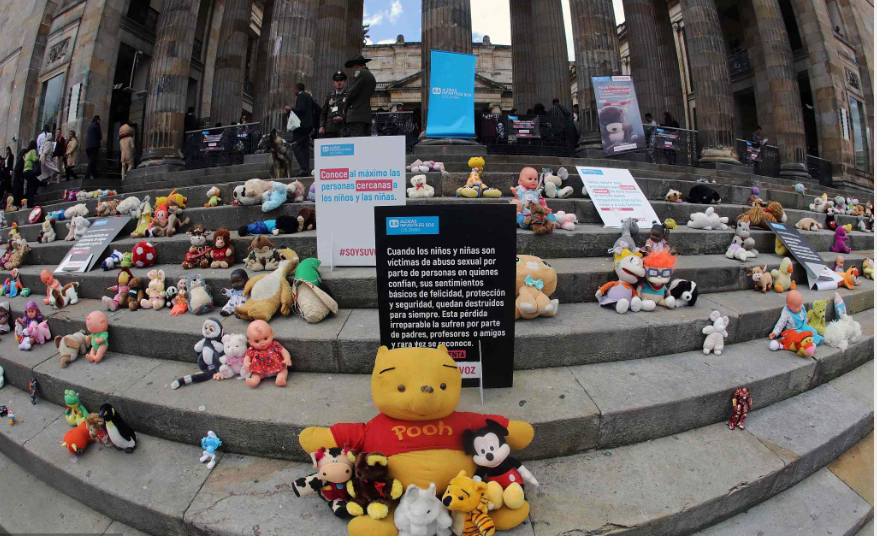 (Photo: CGTN)
Toys were placed on the steps of the Colombian Congress building to protest against sexual violence against children, in Bogota on Tuesday - the day marks the annual World Children's Day.
The protest aims to raise awareness on children's protection responsibility, denounce child abuse cases and provide emotional support for child victims.
"The toys are to raise their voices, demand justice, demand better services and also demand specialized attention for families on behalf of so many children who have been victims of sexual abuse," said Angela Rosales, director of Aldeas Infantiles SOS.
Child sexual abuse in Colombia is one of the worst harms that affect children.
Of the 23,798 cases of sexual violence reported in Colombia in 2017, 87 percent were committed against children under the age of 18, with the highest number of victims being aged between 10 and 13, according to Children Change Colombia, a UK charity organization working exclusively in Colombia.
The organization also said that more than 2,600 children under the age of four were reported to have experienced this violence.
"For us as a family, it was very difficult to have to see our daughter suffer. Our daughter is very strong emotionally, because she knew that the person she loved the most (her father) hurt her," said a woman, who doesn't give her real name.
It's said that sexual violence against women and children has been used as a weapon of war during Colombia's prolonged civil conflict and as a result has become a widespread and systematic practice.