Moscow confirms Russia shoots, holds 3 Ukrainian naval ships in Black Sea
MOSCOW, Nov. 26 (Xinhua) -- Russian forces opened fire on and seized three Ukrainian naval ships in Russia's territorial waters in the Black Sea on Sunday after they violated the Russian border, Russia's Federal Security Service (FSB) said early Monday.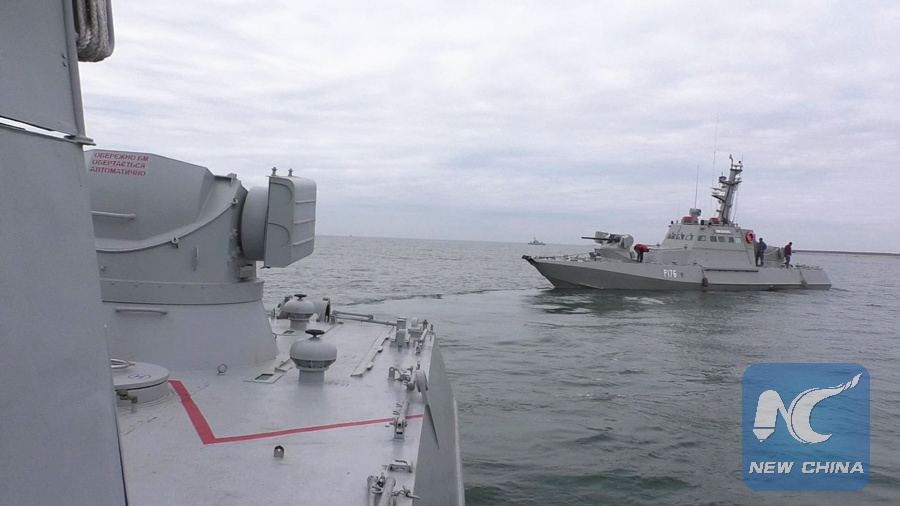 Ukraine's small armoured artillery ship Nikopol is seen during drills in the Black Sea on September 29, 2018. (Photo: Ukranian Ministry of Defence iva Xinhua)
The Ukrainian ships Berdyansk, Nikopol and Yany Kapu breached the Russian border on Sunday morning and attempted to conduct more illegal actions at around 7 p.m. Moscow time (1600 GMT) defying orders of accompanying vessels of the FSB and Russia's Black Sea Fleet, it said.
Weapons were used to force the three Ukrainian ships to stop and then they have been held in Russia's territorial waters in the Black Sea, the FSB said.
Three wounded Ukrainian servicemen have received medical assistance and their lives are not threatened, it said, adding that a criminal case has been launched over the Ukrainian violation of the Russian border.
Earlier, the Ukrainian Navy said it has informed Russia in advance about the passage of Ukrainian vessels from the Black Sea to the Sea of Azov through the Kerch Strait separating the two seas.
Three Ukrainian naval ships entered the temporarily closed waters of the Russian territorial sea circa 7:00 a.m. Moscow time (0400 GMT) and were sailing toward the Kerch Strait, the FSB Border Service in Crimea said in a statement earlier on Sunday.
The vessels aimed to create a conflict situation in the region, it said, adding that the Border Service was taking all measures to stop this "deliberate provocation" and ensure security of navigation and regulation of maritime traffic in the Black Sea, the Sea of Azov and the Kerch Strait.
The Kerch Strait connecting the Black Sea and the Sea of Azov has been closed to civil ships over security concerns, Russian media reported, citing sources in transport authorities.
Ukraine has accused Russia of "aggressive actions" in the Sea of Azov after Russia inaugurated a bridge over the Kerch Strait earlier this year and started inspecting commercial ships sailing through the Sea of Azov and the Kerch Strait.
Moscow rejects such accusations, saying that Crimea is part of Russia, which can exercise its sovereign rights in nearby waters, and the Kerch Strait is not an international passage.
Crimea declared to be part of Russia following a local referendum in March 2014, but Kiev and Western countries rejected the results. Russia-Ukraine relations have been filled with disputes and tensions since then.
Cover image: Russian jet fighters fly over a bridge connecting the Russian mainland with the Crimean Peninsula with a cargo ship beneath it after three Ukrainian navy vessels were stopped by Russia from entering the Sea of Azov via the Kerch Strait in the Black Sea, Crimea November 25, 2018. (Photo: VCG)