Moscow unfazed by possible new Western sanctions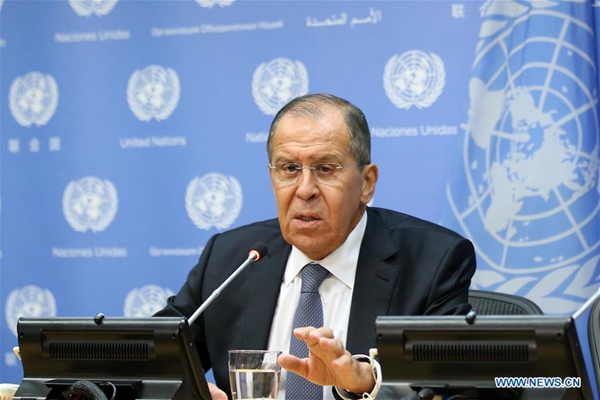 Russian Foreign Minister Sergey Lavrov attends a press conference at the UN headquarters in New York on Sept. 28, 2018. (Photo: Xinhua)
MOSCOW, Feb. 13 (Xinhua) -- Moscow has no fear of possible new Western sanctions, which are likely forced by Washington, Russian Foreign Minister Sergei Lavrov said Wednesday.
"We are not discussing sanctions with anyone. We want to improve our economy, trade with normal foreign partners in such a way as not to depend on someone's whims," Lavrov said at a press conference.
On Tuesday, the Financial Times quoted diplomatic sources as saying that the United States and the European Union (EU) are close to agreeing on new sanctions against Russia over the seizure of Ukrainian warships in the Black Sea in November.
The measures are expected to be discussed at a meeting of EU foreign ministers Monday and could be levied over the next two months, the newspaper said.
"We know that these sanctions are being adopted under the strongest pressure of the United States, which once again speaks of the non-independence of the European Union," Lavrov said.
On Nov. 25, Russia seized three Ukrainian naval ships and 24 sailors on board attempting to sail through the Kerch Strait from the Black Sea to the Sea of Azov, for allegedly violating the Russian border.
Moscow and Kiev accused each other of provocation, and Western countries criticized Russia for the incident.