Northern Ireland under pressure after historic abortion vote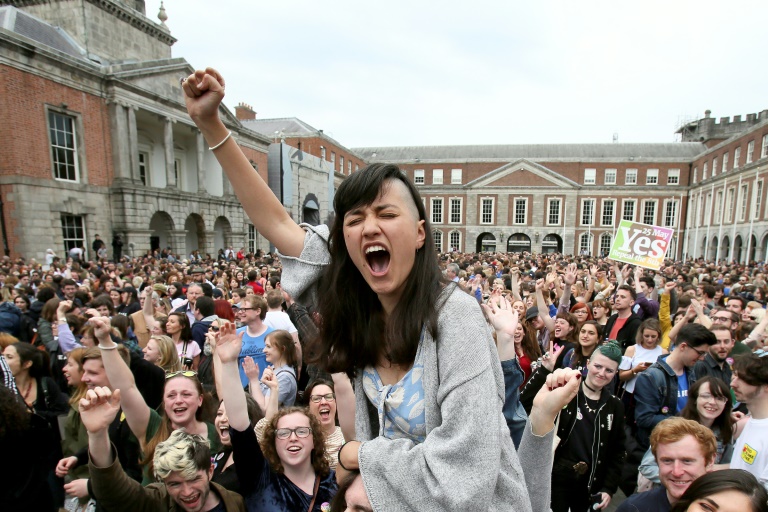 Ireland voted by a landslide to ditch its strict abortion laws, with eyes now on British-ruled Northern Ireland (Photo: AFP)
Pressure mounted on Sunday for British-ruled Northern Ireland to liberalise its strict abortion laws after a historic referendum in the neighbouring Republic of Ireland overturned its ban.
A traditionally Catholic country, Ireland voted by a landslide to ditch its strict abortion laws in a referendum that Prime Minister Leo Varadkar said lifted decades of stigma and shame.
Varadkar's government has promised to approve the drafting of abortion legislation at a cabinet meeting on Tuesday and is aiming to enact the new law before the end of the year.
More than 66 percent of voters backed repealing the constitutional ban on terminations, triggering scenes of tearful jubilation in Dublin after an emotional campaign.
British lawmakers said Northern Ireland, where abortions are only allowed if the physical or mental health of the mother are at severe risk, should now follow suit.
Women who have unsanctioned abortions in Northern Ireland face life imprisonment under 19th-century legislation still in place.
International Development Secretary Penny Mordaunt said Ireland's vote was a "hopeful" day for Northern Ireland.
"That hope must be met," she said.
Newspapers reflected on the historic vote, while the government promised to allow abortion in the first 12 weeks of pregnancy and between 12 and 24 weeks in exceptional circumstances.
"The power of women," was the headline on The Sunday Independent, while The Sunday Business Post ran with "Generation Yes" saying Ireland had wrestled with its past and voted to redefine its future.
The Irish Sun on Sunday pictured two women hugging under the headline "No more lonely journeys" in reference to those who had been forced to travel to England to have an abortion.
Writing in The Sunday Times, columnist Una Mullally said: "The fiction of Ireland as a conservative, dogmatically Catholic country has been shattered.
"What happened in the referendum vote was seismic, but more seismic still was the realisation that this vote was reflecting change, not just instigating it."
In the Sunday Independent, Jody Corcoran said the big pro-choice vote "maximises to a visceral, guttural roar what must amount to be a demand to end decades of hypocrisy and shame".
The result is another hammer blow for the Catholic Church's authority in Ireland, coming three years after referendum voters backed legalising same-sex marriage by 62 percent.
The Church's influence has crumbled in recent years due to a series of child sex abuse scandals.
Diarmuid Martin, the Catholic Archbishop of Dublin, said the Church could not compromise its position on abortion.
In an address to mass-goers in Maynooth, west of Dublin, Martin said the Church needed to renew its pro-life stance not just in words but in deeds also, Irish media reported.
That would include helping women struggling with difficult decisions over pregnancies. "Pro-life means radically rediscovering in all our lives a special love for the poor," he reportedly said.
But any hope for quick change in Northern Ireland, the only part of the United Kingdom where terminations are almost always illegal, appears improbable.
May's minority Conservative government relies on support from MPs from Northern Ireland's Democratic Unionist Party for a majority in the British parliament -- and the Protestant DUP strongly opposes abortion law reform.
Sinn Fein and the SDLP, the two major parties representing Northern Ireland's Irish Catholics, and the cross-community Alliance Party, back overturning the ban.
Among the crowds celebrating the referendum outcome at Dublin Castle where the result was announced, were many from Northern Ireland.
"We believe this is going to be a springboard for the movement in Northern Ireland," 27-year-old Claire told AFP, without giving her last name due to the sensitivity of the issue in the British-ruled territory.
"It is a criminal offence in Northern Ireland and we have absolutely had enough of it."
Another demonstrator from Belfast said the Republic of Ireland was "giving a voice to women.
"In Northern Ireland, we don't have a voice," said Sarah, 26, who also did not give her surname.
"We're really a tiny place, there's not that many of us and we can only shout loud now."