EU's 'frugal four' push to preserve rebates
China Daily Global
1597804139000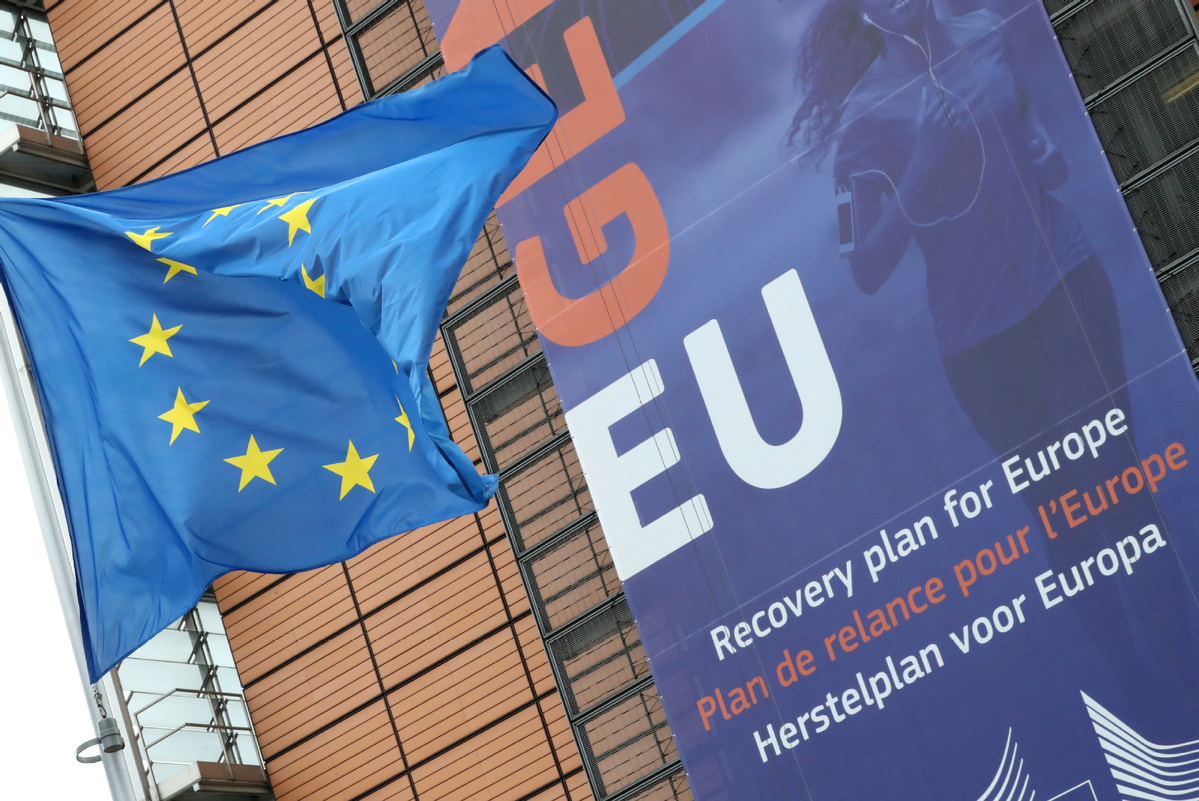 A European Union flag flutters outside the European Commission headquarters, ahead of an EU leaders summit at the European Council headquarters, in Brussels, Belgium, in this July 16, 2020 file photo. (Photo: Agencies)
Some governments reportedly fear large payouts they managed to secure in return for their cooperation during a controversial debate are now in danger of being devalued because of stagnant growth and high inflation caused by the novel coronavirus pandemic.
The Financial Times says Austria, Denmark, the Netherlands, and Sweden, which have been dubbed the "frugal four" because of their past economic practices, want to protect the value of the massive rebates they won during a recent debate about a virus recovery fund by having them index-linked to inflation.
European Union nations have been receiving rebates each year after paying their annual membership fees, ever since former United Kingdom prime minister Margaret Thatcher secured one for her nation back in 1984.
Countries have since been bitterly divided on the issue, because each receives a different rebate and because there are clearly winners and losers, a fact that prompted France to push hard in recent months for rebates to be scrapped completely.
But, Austria, Denmark, the Netherlands, and Sweden managed to secure very large rebates earlier this year when the bloc was trying to build a consensus on a recovery fund to help nations in the south of the bloc bounce back from the novel coronavirus pandemic.
In the end, after the frugal four grudgingly supported the move, the bloc was able to set up a 750-billion-euro ($893-billion) recovery package. In exchange for their support, the frugal four secured rebates on their fees worth 7.6 billion euros a year. In the case of Austria, the rebate was twice its normal size.
The Financial Times said one diplomat said the four nations could lose tens of millions of euros a year from those rebates if the economy tanks as expected because of the virus.
Poorer nations in the south and east of the EU will benefit from the virus recovery fund but lose out if the bloc agrees to hand over even more money to the frugal four and are resisting their demands, the Financial Times reported.
The issue threatens to create a north-south divide within the EU and be a major sticking point in the bloc's continuing discussions over its 1.07-trillion-euro seven-year budget in the coming months.
Janez Lenarcic, the EU's crisis management commissioner, told the Financial Times the extra money that the four nations secured as rebates mean the bloc had to cut spending in other areas, particularly on overseas aid packages.
"A compromise had to be reached and that was the price for it," Lenarcic said. "This does not make everybody happy-it doesn't make me happy because I believe in the need for Europe to show solidarity with the rest of the world and to help others."