Coronavirus pandemic affecting how funerals conducted in US
China Daily Global
1587443921000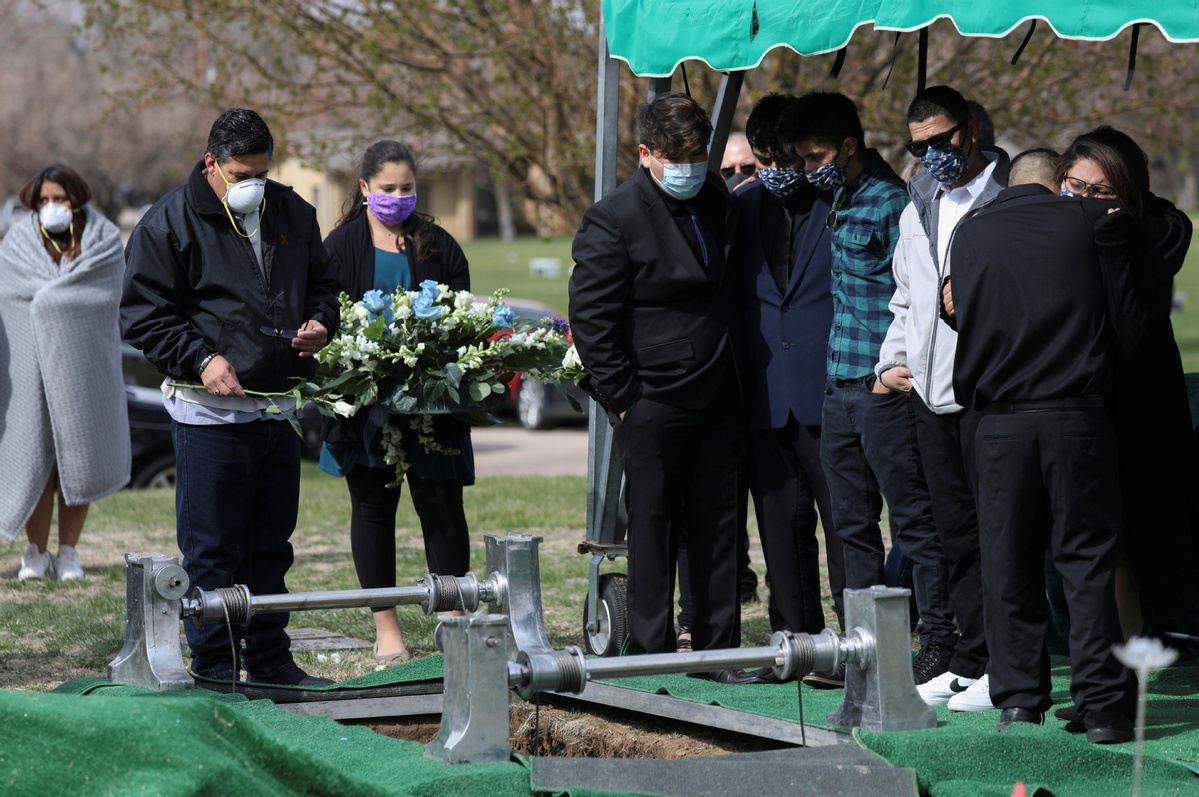 Family members of longtime JBS USA meat packing plant employee Saul Sanchez attend his funeral after he died of coronavirus disease (COVID-19) in Greeley, Colorado, US, April 15, 2020. (Photo: Agencies)
In the coronavirus pandemic sweeping the US, they are the last responders — the nation's undertakers.
The coronavirus that has killed more than 10,000 Americans and disrupted so much of life, is now interfering with all aspects of death — from funeral homes to gravesites, upending the traditional way that people say goodbye to the dead.
From when a body is taken to a funeral home to when a casket is lowered into a grave or placed in a crematorium, and most of all, how people grieve, the coronavirus is changing how death is being treated.
And funeral homes in New York City are being overwhelmed with the number of bodies they are taking. Mortuaries are storing remains in refrigerated trucks for an extended period as families postpone memorials. A funeral home in the city can't hold more than three services a day, which allows staff to clean and disinfect in between families. Crematories have been given permission to extend operating hours and some are operating nearly round the clock.
Funeral homes are taking extra precautions when handling victims of the virus. Some have a separate decontamination zone designated for safe removal of embalming suits, gloves, masks and washing. Door handles, railings and common areas are being disinfected.
The 6-foot social distancing rule is present at funeral homes and gravesites, limiting the number of people who can attend. Hugs and kisses aren't allowed. A funeral home in Buffalo, New York, is offering two visitation options: Mourners can either walk past the casket one at a time, or drive by in their cars.
"The process has to be simple now,'' said Philip Co, marketing manager of Lifemark Group, which operates two funeral homes in the San Francisco Bay Area. "No more than 10 people are allowed at the funeral."
Because of restrictions, more people are livestreaming funerals or turning to social media as a gathering space to memorialize the dead. Co's funeral homes provide livestream service upon request without extra charge.
Co said every day he receives calls from people worried about what would happen if a family member dies of COVID-19.
"They saw the news in other countries and are afraid the bodies of their loved ones would be taken to cremation or burial directly," he said. "It is not as scary here as New York or Italy. But a problem is we don't know which bodies are those who died from the virus."
In Wisconsin, funeral homes are asking families to reduce attendance or consider delaying a large memorial service until the pandemic ends.
"In our area, we have had to have 'adapted' services for families. Almost every family that we have served is planning on having a more public time for extended family and community to come together for a memorial mass, memorial service, or some other type of celebration of life," said John Wenig, president of Wenig Funeral Homes in Sheboygan Falls.
He said there is a "natural instinct and response" to come together when dealing with death.
"That makes it hard on the grieving process for the whole family," Wenig said. "The elements of grief that are needed and most appreciated is the closeness of families coming together — the hugs, the kisses, holding each other. That is not happening right now, simply because families need to maintain the 6-foot distance."
Jeff Kleczka, co-owner of Prasser-Kleczka Funeral Home in Milwaukee, Wisconsin, said he asks people to avoid attending a funeral if they do not feel well and to consider alternatives to physical embraces such as putting a hand over one's heart or bowing.
Some funerals are delayed altogether. Country singer Reba McEntire postponed one for her mother, posting on social media that "we will continue to monitor the situation and let you know as soon as possible about future plans to celebrate her life".
While the pandemic is tough on the bereaved, it also is tough on funeral workers who don't have enough protection gear. Like healthcare workers, the funeral profession is also faced with a worldwide shortage of personal protective equipment (PPE), including face masks, goggles, protective clothing to minimize exposure to the virus,
"In the past, when a catastrophic event occurred, the event was localized to a specific region. Adequate PPE was always available to be shipped in from another area. This epidemic has grasped the entire world," said Wenig.
"Right now, not one area has 'extra' PPE to share or lend … everyone has the same needs. Typically, funeral homes keep an adequate extra supply on hand, but the demand has just been very high," he said.
The National Funeral Directors Association (NFDA) is asking federal, state and local officials to include funeral professionals among the groups when determining priorities for allocating PPE.
"Doing so protects not only our health but that of the entire community in which we work," said Mike Lanotte, executive director and CEO of New York State Funeral Directors Association, in an email to China Daily.
Lanotte said his organization has been working constantly with federal, state and local agencies to ensure the funeral industry fulfills its role throughout the pandemic.
Assistance with every aspect of a funeral or memorial service is needed to relieve the pressure on funeral homes, from bringing a deceased person to a funeral home from the hospital or the medical examiner's office for preparation and embalming, to coordinating burial or cremation, said the NFDA.