Cuba condemns US for misusing UN facilities to attack UN member
People's Daily app
1539734172000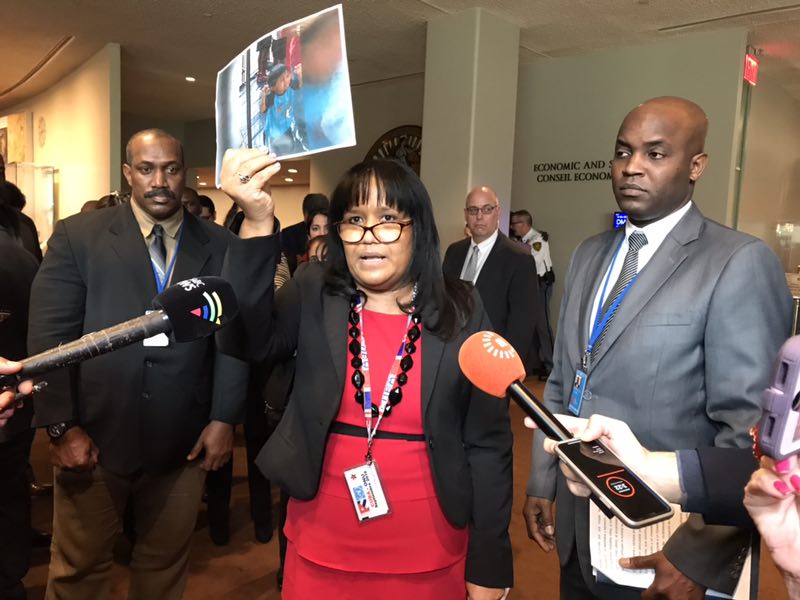 Cuban Representative to the UN Anayansi Rodriguez Camejo, holding a picture of a child in isolation, criticizing the US' immigration policy and human rights. (Photo: Yin Miao)
New York (People's Daily) – The Permanent Mission of the US to the United Nations launched a campaign Tuesday called "Jailed for What?" at the UN Headquarters, claiming that Cuba is violating the human rights of some 130 political prisoners by incarcerating them.
Cuban Representative to the UN Anayansi Rodriguez Camejo said the US lacks the moral authority to teach other countries such lessons, since the Trump administration has held an "agenda of supremacist, racist, and xenophobic ideas."
"Cuba denounces the perverse intention to hold this event using the name and premises of the United Nations to attack one of its member-states," Camejo said. "Holding the event would constitute a clear violation of the purposes and principles of the UN Charter and international law, and of the rules of this organization for the conduct of meetings."
Rodriguez called the event and campaign an "affront to the sovereignty of the Cuban people."
Bolivian representative to the UN Sacha Sergio, also the current President of UN Security Council, agreed with Camejo and said the US is attempting to use the UN as its own tool.
Sergio also said the US has violated the human rights of many individuals at Guantanamo Bay and Abu Ghraib and caused the deaths of numerous civilians in Iraq and Libya.
"The United States has withdrawn from the unfavorable things in the United States," Sergio said. "The United States has withdrawn from the Paris Agreement, withdrew from some immigration agreements and withdrew from the UN Human Rights Commission. When the United States needs the logo of the United Nations for its own political purposes, it will use the venue of the United Nations. We are firmly opposed to this."