France, UK in Bayeux Tapestry conservation push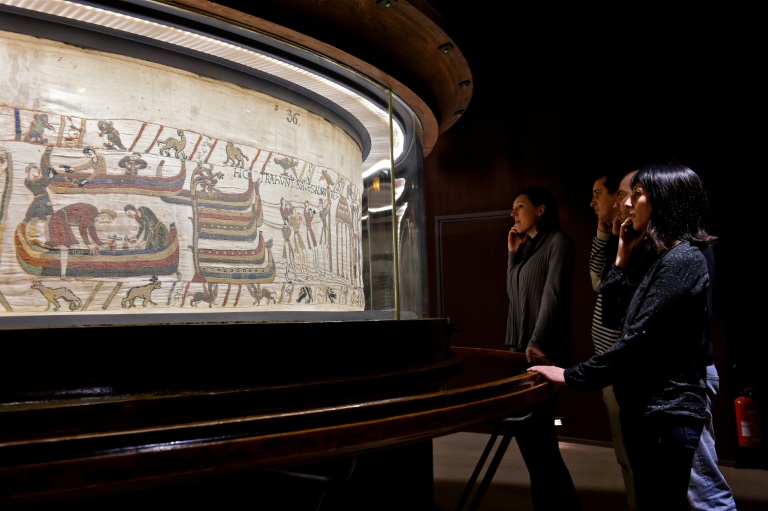 The Bayeux Tapestry depicts the 1066 Battle of Hastings when William the Conqueror from France defeated English forces.(Photo: AFP)
French and British experts will work together on preserving the Bayeux Tapestry ahead of a possible cross-Channel loan of the fragile 11th-century treasure, France said Thursday.
Britain announced in January that France would lend it the tapestry in 2022 following a surprise offer by President Emmanuel Macron, but experts had since warned of major conservation problems.
France's culture ministry announced Thursday that experts from both sides would work on a new "scientific and technical" project to conserve the tapestry, but a date for the "possible loan" was conspicuously absent.
The deal will also seek to "showcase" the tapestry and "broaden understanding about it at international level, particularly among the British public", the ministry said, without giving further details.
French conservation experts had reacted with horror to the plan to loan out the tapestry, which is 68 metres (224 feet) long and extremely fragile -- and nearly 1,000 years old.
Isabelle Attard, former director of the museum in the Normandy town of Bayeux which houses the tapestry, told AFP in January that moving it a few metres would be risky, never mind transporting it overseas.
"A temporary exhibition in Britain is worrying on several levels," she said, adding that she had "huge doubts" about whether such a loan was possible in practical terms.
Given that the tapestry depicts the 1066 Norman conquest of England, Macron's offer sparked a flurry of speculation about whether the gesture was intended as a mark of friendship or an act of diplomatic trolling.
The tapestry, which dates from around 1077, depicts the famed Battle of Hastings when William the Conqueror from France defeated English forces in southern England.
The story of the 1066 military defeat, in which England's King Harold famously died after taking a French arrow in the eye, is still taught to British school children and is a founding moment in the long and bloody history of Anglo-French rivalry.