US equities slide as strong jobs report dims rate-cut hopes
NEW YORK, July 5 (Xinhua) -- US stocks declined on Friday as the newly-released strong jobs data dimmed hopes for easier Federal Reserve monetary policy.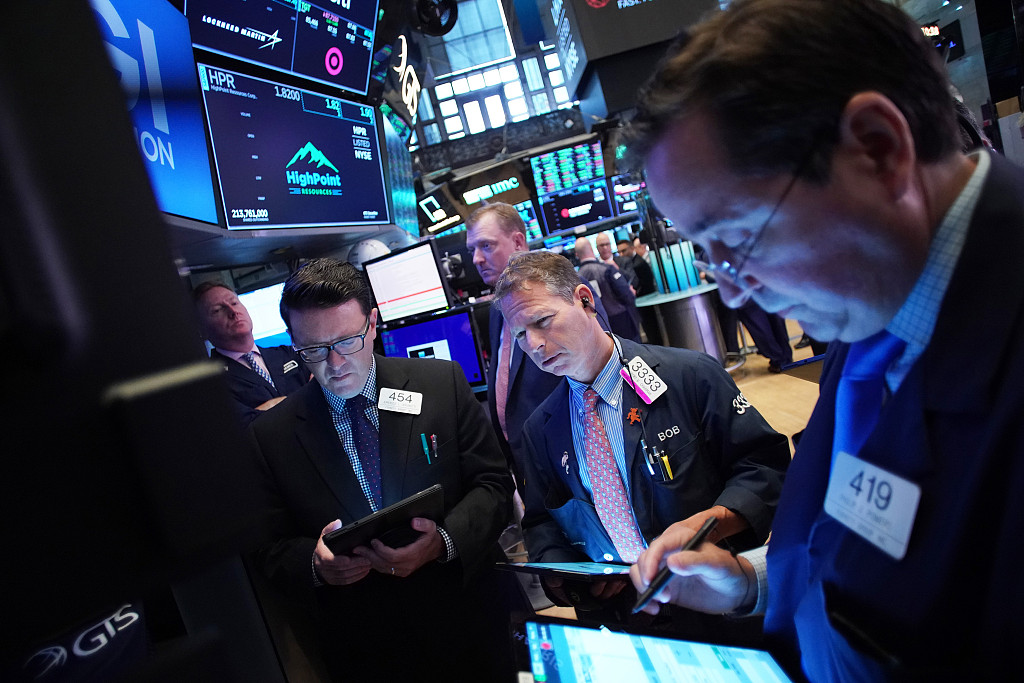 Traders work on the floor of the NYSE at the opening bell at the New York Stock Exchange on Wall Street in New York City on Monday, July 1, 2019. (File photo: VCG)
The Dow Jones Industrial Average fell 43.88 points, or 0.16 percent, to 26,922.12. The S&P 500 was down 5.41 points, or 0.18 percent, to 2,990.41. The Nasdaq Composite Index slid 8.44 points, or 0.10 percent, to 8,161.79.
Seven of the 11 primary S&P 500 sectors closed lower, with health care and real estate down 0.73 percent and 0.57 percent, respectively, leading the laggards. Financials closed up 0.38 percent, the best-performing group.
US employers added 224,000 jobs in June, and the unemployment rate edged up to 3.7 percent, the US Bureau of Labor Statistics reported Friday.
Job gains mainly occurred in professional and business services, health care, transportation and warehousing, the bureau said.
June's total nonfarm payroll employment is markedly higher than May's downwardly revised number of 72,000, and is higher than the economists' forecast of 165,000 surveyed by The Wall Street Journal.
The data came as investors are pricing high on more easing monetary policy by the US central bank in order to spur growth.
The better-than-anticipated employment report may cloud the hopes, experts noted.
Strong job growth in June reduces rate-cut odds, Chris Low, chief economist at FTN Financial, said in a note on Friday.
"Because the Fed defined the need for rate cuts in terms of slowing growth rather than low inflation, a cut at the end of this month seems unlikely unless there is significant weakness in consumer indicators," he added.
During its June monetary policy meeting, the Fed left the interest rates unchanged and stated that it "will closely monitor the implications of incoming information for the economic outlook and will act as appropriate to sustain the expansion."