Johnson and Macron discuss EU deal
China Daily Global
1602470729000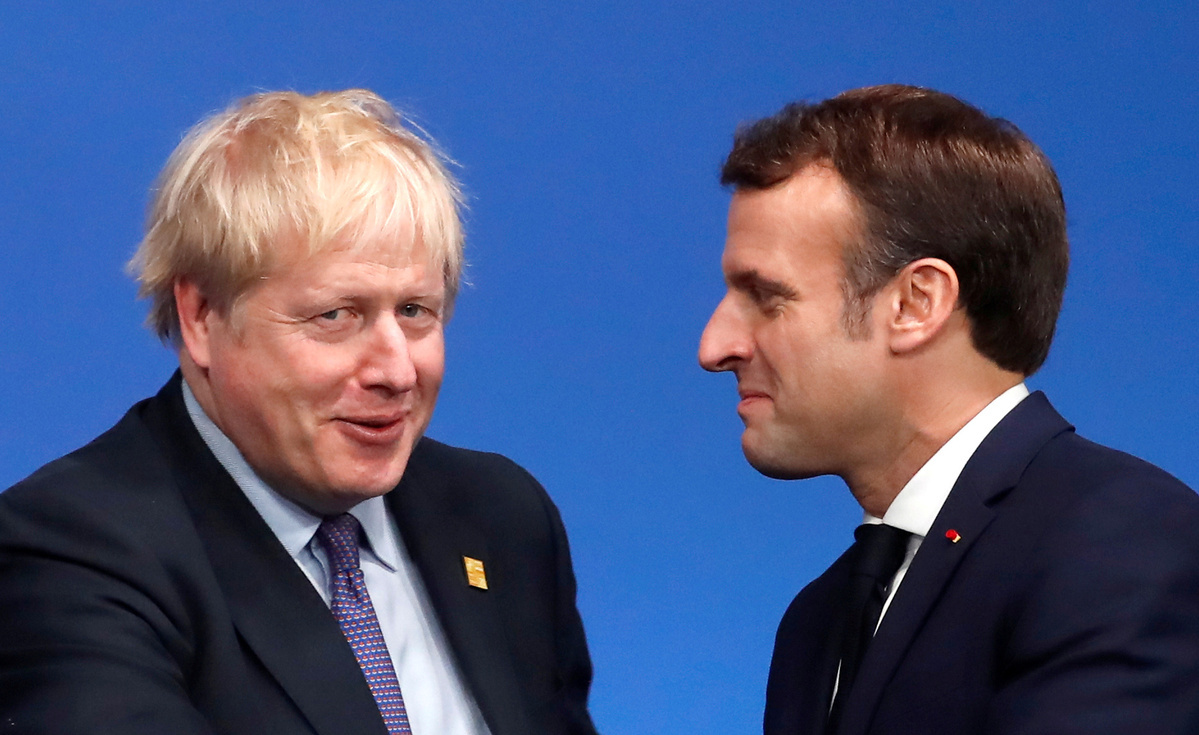 Britain's Prime Minister Boris Johnson welcomes France's President Emmanuel Macron at a NATO leaders summit in Watford, Britain, in this Dec 4, 2019 file photo. (Photo: Agencies)
British Prime Minister Boris Johnson told French President Emmanuel Macron that the United Kingdom was willing to"explore every avenue"in negotiations for a post-Brexit trade deal with the European Union, in a phone call on Saturday.

The leaders spoke just days before the deadline set for a future trade deal to be concluded this Thursday, with the EU still focused on gaining a few more concessions.Disagreement over fishing rights has been a major issue.
Negotiators, led by the UK's David Frost and the EU's Michel Barnier,will meet again on Monday.
Johnson's office gave details of the call, in which the prime minister"set out the latest state of play in the negotiations on the future relationship between the UK and the EU".
Britain left the EU on Jan 31 and entered a transitional period until the end of the year. Until then, all rules, regulations and budget payments stay the same.
The prime minister's office said Johnson told Macron that if no progress was made, the UK would end the Brexit transitional period on what he calls"Australian-style terms".
Although the UK government doesn't say it, this would be World Trade Organization rules and would mean tariff s on goods.
"He(Johnson) confirmed the UK's commitment to exploring every avenue to reach an agreement," a Downing Street spokesperson said.
"The prime minister emphasized that progress must be made in the coming days to bridge the significant gaps, notably in the areas of fisheries and the level playing field,through the process of intensive talks between chief negotiators."
Barnier and Frost have said they are edging toward a deal before the deadline, but that issues remain.
The spokesperson said Johnson had told Macron that Britain wanted a deal,"but not at any price".
"He underlined that a deal was better for both sides, but also that the UK was prepared to end the transitional period on Australia-style terms if an agreement could not be found,"Johnson's office said.
However, a senior EU diplomat told The Guardian newspaper that their side did not believe the deadline was a fixed cut-off date.
"I don't detect any readiness on the British side to suspend the negotiations," the source told the paper on Friday. "This is going to continue. It is not a deadline."
The deadline was set by Johnson to coincide with an EU summit in Brussels on Thursday afternoon,though negotiators on both sides have agreed that a deal needs to be finalized this month to ensure sufficient time for approval.