Foxconn plant's troubles point to worsening US business environment
Global Times
1541977251000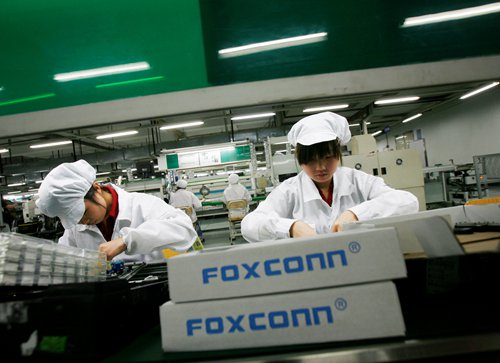 Employees work at a Foxconn factory in the township of Longhua, South China's Guangdong Province File. (Photo: VCG)
The increasing challenges for Foxconn Technology Group's plan to build a multi-billion-dollar factory in the US state of Wisconsin are shining a spotlight on the worsening business environment in the US, particularly for Chinese companies.

The challenges also show the limitations to US President Donald Trump's much-touted efforts to bring manufacturing back to the country, a Chinese analyst said on Sunday.

Despite high praise from top officials, including President Trump - who even as recently as last month called the deal "incredible" - the Foxconn investment in Wisconsin has come under fire in recent days for reported plans to bring in workers from China. The project could face tough US administrative scrutiny going forward, as criticism continues to intensify.

The Wall Street Journal reported last week that Foxconn was considering bringing in some staff from China for the project, which is under construction, as the company struggles to find engineers and other skilled workers in the US.
Foxconn denied the report, stressing that the company will focus on recruiting workers in the state.

Still, the news sparked intensified criticism of the project in the US and some even suggested that the state's newly elected Governor Tony Evers, who has criticized the project, could take some action against Foxconn.

According to a report on US technology news website The Verge, while Evers is unlikely to stop the project or make major changes to the deal, he could use transportation projects attached to the factory and take other aggressive measures on environmental issues to extract more concessions from Foxconn.

Evers, who will take office in January, has spoken of the project that "it's a lousy deal, and we're going to have to hold Foxconn's feet to the fire going forward," according to a report in The Journal Times in September.

Chen Fengying, a research fellow at the China Institutes of Contemporary International Relations in Beijing, said that such criticism and the threat of potential action show that the business environment is worsening in the US, which is often engulfed in bitter partisan fights.

"This is evidence that US political battles have started to weigh on businesses," Chen told the Global Times on Sunday. "Basically, whatever the other side did is wrong and the new one will try and change everything around. That is a risk for businesses."

Chen said that the difficulties for the Foxconn project also highlighted the limitations of Trump's plan to bring manufacturing back to the US. "He has made it a political task, but it just does not work like that."

She pointed out that the manufacturing industry takes a long time to build up massive industry chains and labor pools.

"It took China decades to be where it is now. The US has not been focused on the manufacturing sector for so long that it does not have the complete resources for manufacturing companies."