North Korea says talks with Pompeo were 'regrettable': AP
People's Daily app-AP
1530969551000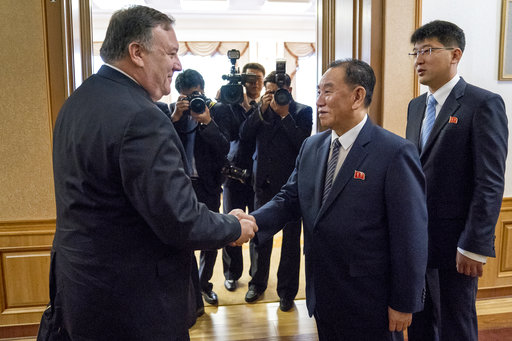 U.S. Secretary of State Mike Pompeo meets with Kim Yong Chol, second from right, a North Korean senior ruling party official and former intelligence chief, for a second day of talks at the Park Hwa Guest House in Pyongyang, North Korea, Saturday, July 7, 2018. (AP Photo/Andrew Harnik, Pool)
North Korea said Saturday that high-level talks with a U.S. delegation led by Secretary of State Mike Pompeo were "regrettable" and accused Washington of trying to unilaterally pressure the country into abandoning its nukes, according to AP.
The North's statement came hours after Pompeo wrapped up two days of talks with senior North Korean officials without meeting North Korean leader Kim Jong Un but with commitments for new discussions on denuclearization and the repatriation of the remains of American soldiers killed during the Korean War, AP reported.
The North provided a much harsher assessment of the talks, saying that the United States betrayed the spirit of last month's summit between US President Donald Trump and North Korean leader Kim by making "one-sided and robber-like" demands on "CVID," or the complete, verifiable and irreversible denuclearization of North Korea.
"We had expected that the U.S. side would offer constructive measures that would help build trust based on the spirit of the leaders' summit ... we were also thinking about providing reciprocal measures," an unnamed spokesman of Pyongyang's Foreign Ministry said in a statement carried by the North's official Korean Central News Agency.
"However, the attitude and stance the United States showed in the first high-level meeting (between the countries) was no doubt regrettable," the spokesman said.