UK, Ireland suggest Brexit talks will go to November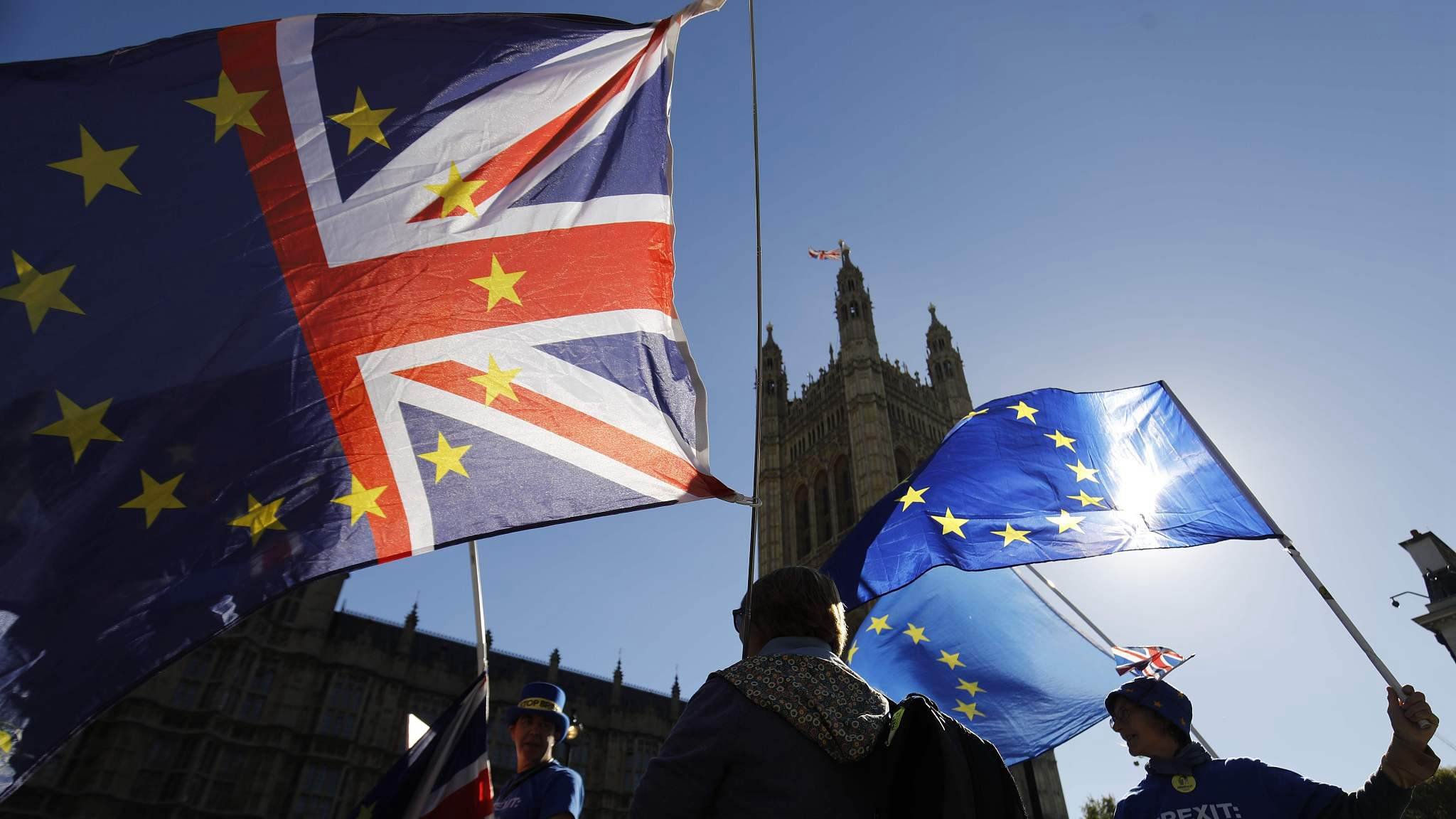 (Photo: CGTN)
British and Irish ministers on Tuesday played down hopes of a breakthrough in Brexit negotiations at an EU summit next week, suggesting it would take until November to clinch a divorce deal.
European Union leaders have demanded real progress by the October 18 meeting, to allow time for any deal to be approved by the bloc's parliaments before Britain leaves in March next year.
British Brexit Secretary Dominic Raab told MPs the October meeting "Will be an important milestone, we expect that to be a moment where we will make some progress."
But on actually getting a deal, he said: "We've always been clear we would aim for the October council but there would be leeway, that it might slip into November. We're still clear on that."
Raab declined to say when London would publish its updated plan on how to keep open the border between British Northern Ireland and EU member Ireland, a key sticking point in the talks.
In Dublin, where the Irish government unveiled a 1.5-billion euros (1.7 billion US dollars) "rainy day fund" to cushion the country from major economic shock of Brexit, foreign minister Simon Coveney also looked to November.
Negotiations had "intensified significantly this week" on trying to resolve the Irish issue, he said.
But, he added: "I suspect November will probably be needed as well as October to get agreement on that."
EU leaders have held out the possibility of a special November summit to seal the overall divorce deal, but only if there is progress before then.
Northern Irish opposition
British Prime Minister Theresa May's Europe adviser Olly Robbins is in Brussels this week as the two sides step up private negotiations in what some have called a "diplomatic tunnel" leading up to the summit.
European Commission President Jean-Claude Juncker said last week the chances of a deal were now rising, but London has been trying to dampen expectations, insisting it will not be pressured.
Coveney speculated that Britain would not formally publish its Irish plan, instead preferring to thrash it out with the EU behind closed doors.
The issue is particularly sensitive for Prime Minister Theresa May, because her majority in the House of Commons depends on the support of a small Northern Irish party, the Democratic Unionist Party (DUP).
DUP leader Arlene Foster was in Brussels on Tuesday for talks with EU Brexit negotiator Michel Barnier.
She made it clear she would reject any deal that, with the goal of keeping the Irish land border open, established new checks between Northern Ireland and mainland Britain.
"We could not support any arrangement that would give rise to customs or regulatory barriers within the UK internal market," she told reporters after the talks.
London believes frontier checks can be avoided through a new trade deal with Brussels, but accepts the need for a fallback plan, or backstop, to address the issue until that deal is agreed.
It has rejected the EU proposal that Northern Ireland stay aligned to the bloc's customs and regulatory rules, saying this would effectively carve off the province from the rest of Britain.
But it has yet to publish its own alternative, offering only a partial plan to keep the whole of Britain aligned with EU rules for a limited time. This has been rejected by both Brussels and many British Eurosceptic.
May's proposal for the future trade deal, meanwhile, has also been roundly rejected by the EU.
Raab repeated May's demand that the EU give ground, however, saying Britain had made ambitious and pragmatic proposals.
"It is quite right now to expect the EU to move in our direction and if they do match that ambition, if they do match that pragmatism, I am confident that we can still reach a deal," he said.
On Friday, the EU ambassadors from the 27 non-British member states will meet in Luxembourg to discuss Brexit in the run-up to the summit, a diplomatic source said.