UK puts cash into immunity research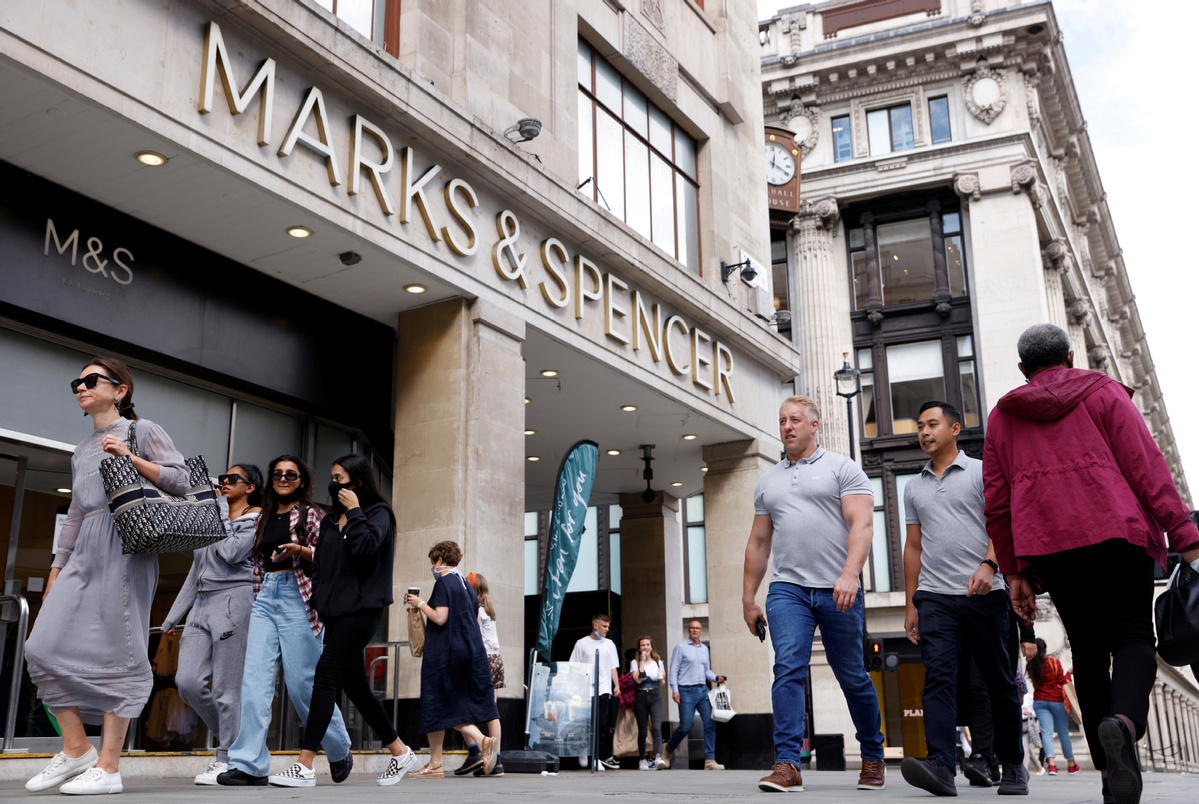 People walk outside the Marks&Spencer shop amid the outbreak of the coronavirus disease (COVID-19), in Oxford Street, London, Britain on Aug 18, 2020. [Photo/Agencies]
The United Kingdom government has injected 6.5 million pounds ($8.75 million) into a nationwide research program that will investigate how long novel coronavirus immunity lasts, as well as several other crucial considerations surrounding COVID-19.
Scientists involved in the UK Coronavirus Immunology Consortium, or UK-CIC, will explore key unknowns regarding COVID-19 and the immune system. For example, they still do not know exactly why some people are better than others at fighting the virus, or why the immune system itself will occasionally inflict damage on the lungs during infection.
A group of immunologists first proposed the newly launched consortium to the government back in May, and after consideration, the UK Scientific Advisory Group for Emergencies, gave the project the green light in June.
Paul Moss, who is a professor of hematology at the University of Birmingham and principal investigator for the UK-CIC, said that understanding the complexities of the immune response to COVID-19 is key to successfully developing new diagnostics, treatments and vaccines.
"There is so much that we still need to learn about how the novel coronavirus interacts with our immune system, and, with this investment, we have a unique opportunity to answer these key questions and hasten effective pandemic control," he said.
Part of the program will involve examining the lungs of people who have died from COVID-19.
In some cases, infection causes severe damage to the lungs, which become firm and swollen, with frothy secretions blocking airways. Doctors have reported viewing debris from dead lung and immune cells when examining samples under the microscope.
Key clinical questions
It is thought that some of this damage is caused not solely by the novel coronavirus, but by the human immune system itself. There are a number of conditions linked to an overactive immune system, including hyper-inflammatory syndrome and cytokine storm, but researchers are yet to identify precisely what goes on in the case of novel coronavirus infection.
"By having a deeper look at those who have died from COVID-19 through post-mortem examination, we will increase our understanding of what is happening to the body in the most severe cases of this disease," said Christopher Lucas, a respiratory consultant and inflammation expert at the University of Edinburgh, which is part of the UK-CIC. "Critically, this will allow us to rapidly answer key clinical questions and help inform the care of patients and the development of new treatments."
The consortium, which involves immunologists from 17 universities in the UK, will also tackle one of the biggest unanswered questions that has hung in the air since the pandemic began: how long does immunity to the novel coronavirus last post-infection?
Early research has returned conflicting results over this quandary, with immunity appearing to last from a few weeks to several months, depending on the study, and a few isolated cases may have already provided evidence that reinfection is a real possibility.