Missing Nora's family 'heartbroken' as body is found
The family of Nora Quoirin who was found dead at a resort in Malaysia nine days after going missing have said their "hearts are broken" and "the cruelty of her being taken away is unbearable".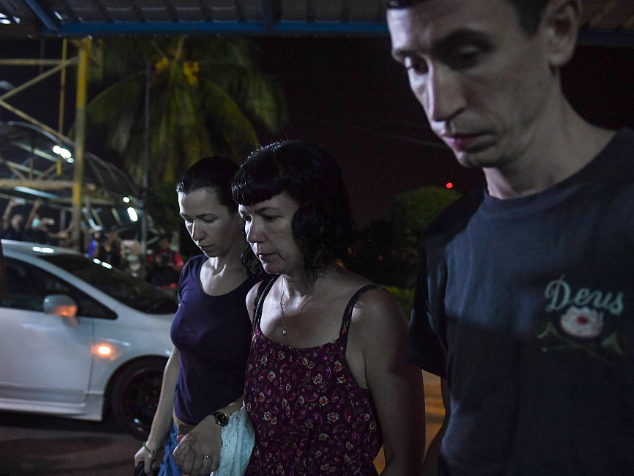 Family members arrived at a hospital where rescuers brought a body during a search operation for the missing 15-year-old Franco-Irish teenager Nora Quoirin in Seremban on August 13, 2019. (Photo: VCG)

The body of the 15-year-old, who lived in the United Kingdom and was of Irish-French parentage, was found by a waterfall 1.6 kilometers from the Dunsun resort where she had arrived with her family for a holiday on Aug 3 for a two-week holiday.
"Nora has brought people together, especially from France, Ireland, Britain and Malaysia, united in their love and support for her and her family," said a statement issued by her family. "She has truly touched the whole world."
Nora had special needs, having been born with brain development disorder holoprosencephaly, and was described by her family as "not independent and does not go anywhere alone". No cause of death has yet been established, and a post mortem examination is due to take place.
She was found near a waterfall she had been looking forward to visiting, in what Malaysia's deputy police chief, Mazlan Mansor, said was a "quite hilly" plantation area, and she was not wearing any clothing when her body was discovered, reportedly by a volunteer from Seremban Hiking Club, part of a group of 350 people who helped with the search.
The alarm was raised on the morning of Aug 4 when a window was found open in the room Nora was sharing with her siblings at the Seremban resort, around 62 km south of the capital Kuala Lumpur, and she was reported missing. The early reaction of local police was that there was no sign of foul play, but the family said she had been abducted.
Their lawyer Sankara Naire thanked people who had helped in the search. "The family and I wish to express our greatest gratitude to the police and all the authorities involved in this search," he said.
"It is a highly traumatic situation. It's the loss of a daughter and child and naturally traumatic levels are very high. I think they are still pondering on the next course of action, because they are so overcome by grief and I think it is not in their mind yet."
Family members raised more than $138,000 to cover the cost of the search, and her parents put up a reward of 50,000 Malaysian ringgit ($11,900) for help in finding their daughter.
Irish Taoiseach Leo Varadkar said the Quoirins were experiencing "every family's worst nightmare".
"Our thoughts and sincere condolences are with Nora Quoirin's parents, siblings and wider family at this unimaginably difficult time,"he tweeted.
"They have experienced every family's worst nightmare. I'd like to pay tribute to everyone who searched for Nora. May she rest in peace."