Armenian ambassador to China hopes to facilitate bilateral exchanges
People's Daily online
1578058416000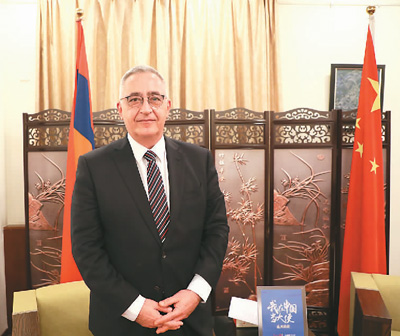 Sergey Manassarian. (Photo: haiwainet.cn)
For nearly three years, Sergey Manassarian, as the Armenian ambassador to China, has visited many places in China and come to understand the various facets of Chinese society, especially the richness and diversity of Chinese culture.
The Armenian ambassador spends half an hour at mealtimes reading classical Chinese poetry and believes that traditional Chinese poems embody a variety of philosophies.
In fact, the ambassador's affection for Chinese culture is a reflection of the popularity of Chinese culture in Armenia.
The Belt and Road Initiative (BRI) has brought China and Armenia closer to each other, said Manassarian.
The two countries have strengthened cooperation in culture, education and other fields in recent years. Many primary and middle schools in Armenia have set up Mandarin courses and universities have launched Mandarin majors.
Chinese has become the second foreign language in Armenia and is familiar to many Armenian youths.
In 2018, Armenia received a total of nearly 10,000 Chinese tourists while the number was only several hundred a few years ago, according to the ambassador.
The two countries even signed an agreement in May 2019 to waive visas for ordinary passport holders, in a bid to make it more convenient for people to travel between the two countries.
While China has remained the second largest trading partner of Armenia for a long time and Chinese enterprises have actively helped Armenia with the construction of local infrastructure, Armenia also hopes to introduce more products into China.
Armenia produces high-quality grapes and apricots, said Manassarian, adding that the country is developing food preservation technologies to bring more fresh local fruits to Chinese consumers.