Abortion ban deters college students
Nearly half of US college students who took part in a survey in states where abortion is illegal or will soon become illegal said they are planning or are considering transferring to a school in a state where abortion is still legal.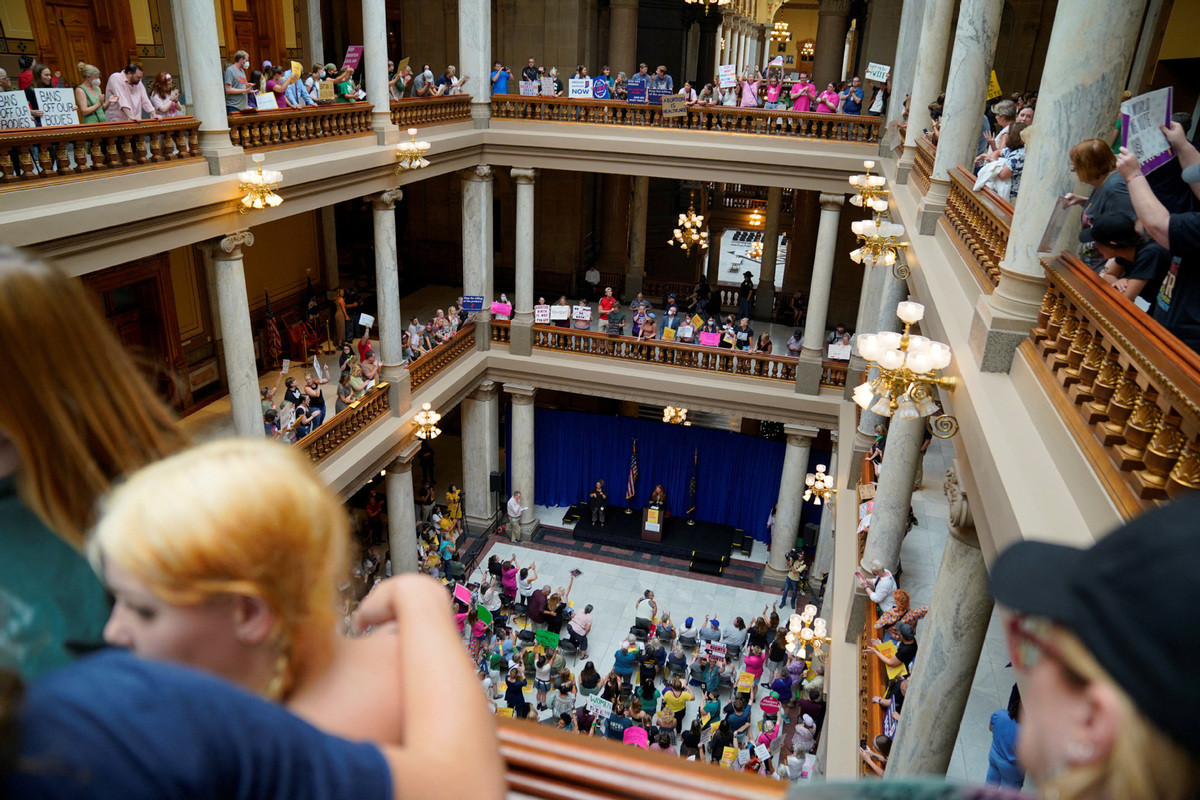 The online education magazine Intelligent.com conducted the survey of 1,000 students a month after the Supreme Court overturned Roe v. Wade on June 24, canceling the constitutional right to abortion and leaving the decision on abortion's legality up to individual states.

Of the 45 percent of students surveyed in states where abortion is illegal or soon to become illegal and said they are planning or considering transferring schools, 20 percent said they "definitely" plan to transfer and 25 percent are "considering" transferring.
The remaining 55 percent said they have no intention to change schools based on abortion laws. Fifty-two percent of those students said they cannot transfer for personal or financial reasons. Twenty-nine percent said they are too far along in their program to switch schools now.
Abortion is now banned in 17 states, including Ohio, Indiana, Kentucky, Tennessee, South Carolina, Utah and West Virginia.
Added dilemma
Student counselors said teenagers heading to college have always had to consider several issues including whether to go to a big or small college, one that is private or public and the cost. But they are finding that the abortion ban has created an added dilemma for students, especially in the South and Midwest where abortion bans exist.
Kristen Willmott, a counselor with college admissions company Top Tier Admissions in Boston, said abortion laws in some states have made students rethink where to go to school.
Willmott said "some of her rising seniors" that she works with have said they are taking some top schools in Florida, Tennessee and Texas off their application list due to their restrictive abortion laws.
Admissions figures do not yet reflect whether there is a drop in applications to colleges in states with abortion bans. But several schools risk losing potential students from even applying.
Nina Huang, a high school student in California who plays the flute and piano, hopes to eventually study medicine or law.
She had considered going to Oberlin College in Ohio, a private liberal arts school with 2,700 students, but crossed the college off her application list after Ohio enacted a near-total ban on abortion last month. Huang said she now plans to look at schools in states with less restrictive laws.
"I don't want to go to school in a state where there is an abortion ban," she told Reuters.
In 2020, 5 percent of Oberlin College's first-year students were from Ohio. But more than half of its incoming students came from states that protect abortion, including 12 percent from New York and 9 percent from California.
The school is now weighing ways to balance respecting Ohio's abortion ban, while offering reproductive care to students.
"As our understanding of this new post-Roe world emerges, Oberlin will evaluate the ways we are able to continue offering our community the best possible access to reproductive healthcare," Oberlin College president Carmen Twillie Ambar said.