US voters most concerned about health care in midterm election: poll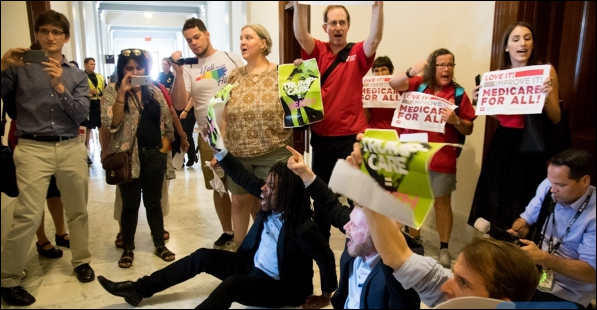 People participate in a protest against Republican health care bill in Russell Senate Office Building on Capitol Hill in Washington D.C., the United States, July 10, 2017. (Photo: Xinhua)
A poll released Thursday showed that more than 70 percent of voters said health care was an important issue in the upcoming midterm elections, more so than any other topics.
In a survey that were participated by 1,201 respondents, the Kaiser Family Foundation found that 71 percent of voters believe health care "was very important", while 30 percent said health care was "the most important" issue.
Health care was more important for Democratic voters, among whom 40 percent said it was "the most important", 31 percent among independent voters, and 17 percent of Republican voters agreed.
Other issues that voters mostly cared about were the economy and jobs, gun policy, immigration, tax cuts and tax reform, and foreign policy.
The ranking differed slightly from what respondents said they heard debated the most among candidates, with 58 percent saying they've heard "a lot" about immigration, 51 percent saying the same about the debate on whether to support US President Donald Trump, and 43 percent saying issues on the economy and jobs were debated "a lot".
The 2018 midterm elections will be held on Nov. 6. All 435 House seats, 35 Senate seats, along with a number of Governorships will be contested.