AUKUS strengthens alliance to threaten China, Russia with hypersonic missile pact
Global Times
1649249877000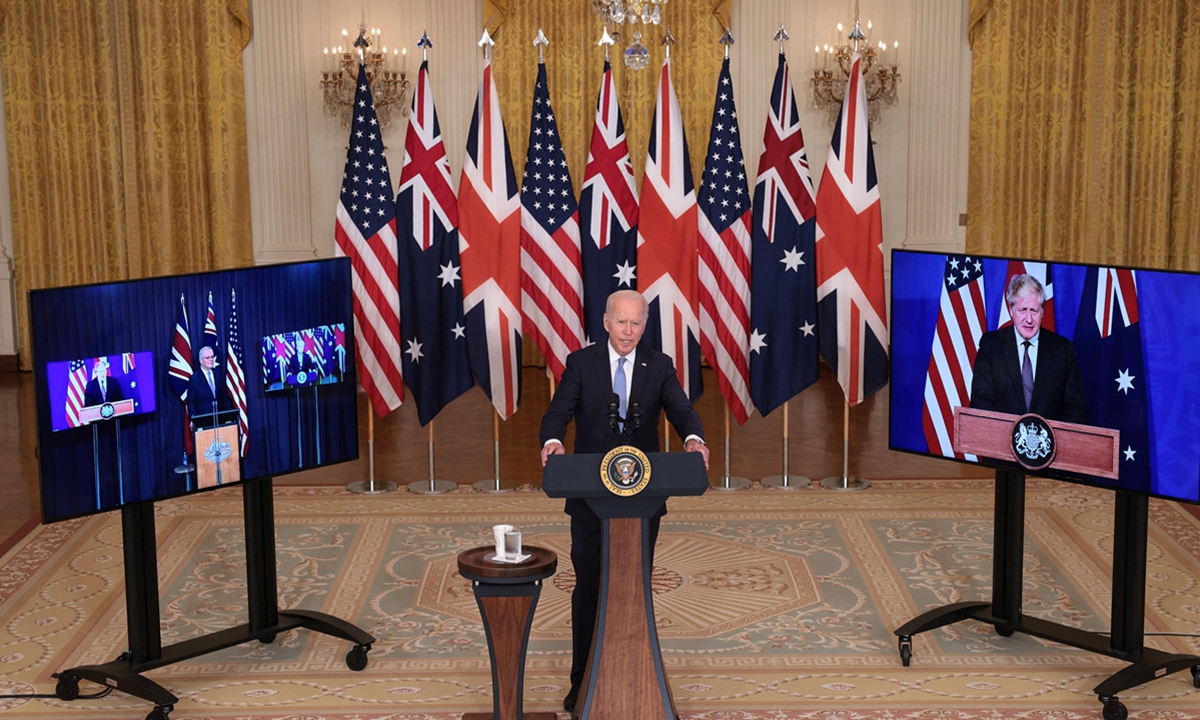 The US, UK, and Australia announced on Tuesday that they agreed to cooperate on "hypersonics and counter-hypersonics, and electronic warfare capabilities." This is actually one of the extended programs of the AUKUS military alliance - a trilateral partnership that initially aimed to help Canberra acquire nuclear-powered submarines.
The US military, be it Army, Navy, or Air Force, has been working on hypersonic weapons. A great number of investments have been made in this area, and it seems they have already paid off: Washington quietly conducted a successful hypersonic missile test in mid-March, as revealed by US media on Tuesday.
Along with developing hypersonic missiles, the US seeks to sell these weapons to other countries. Since London and Canberra are important members of Washington's military alliance, they have become target customers for hypersonic weapons. The US just wants to keep making the UK and Australia buyers of its arms.
And even if the two countries do have input on the development of the hypersonics, they will most likely act as providing fund, or get involved in the development of some supporting products and facilities. Washington will still keep core technologies firmly in its own hands. If the cooperation between the three nations works out, there will be deployment of hypersonic missiles in the UK, Australia, and their military bases around the world, with missiles in Australia aimed at China, while the ones in the UK will target Russia. The US has completely built AUKUS as a military alliance that spans three oceans.
Such cooperation will further intensify the global arms race. It will also seriously affect the balance of regional military strength, as well as fuel the ambitions of these countries to solve disputes by military means. On the other hand, hypersonic missiles can carry both nuclear and conventional warheads. Thus, this cooperation is a violation of the Missile Technology Control Regime and the Nuclear Non-Proliferation Treaty.
The US aims to get more countries to help it counter China and Russia. AUKUS has just made a start, and the US will bring in more countries in the future to join the alliance, turning it into a global military organization.
In terms of the content of cooperation in the AUKUS, the three countries will strengthen their cooperation, particularly in space. Even Canberra, which has no space capability, has begun to follow Washington's steps to build a new "Space Command." This just indicates that the US and some of its closest allies will extend competition against China and Russia from land and sea all into space.
According to AUKUS, the new submarines will not be fully operational until the late 2030s. But Australian Defence Minister Peter Dutton recently said that Australia could acquire nuclear submarines from the US or UK "much sooner" than expected.
In fact, there are many ways to provide nuclear-powered submarines to Australia. Helping Australia produce Virginia-class nuclear-powered submarines, even the lower-level Virginia-class submarines, will require a long time. Therefore, the US is also considering selling its decommissioned nuclear submarines, such as the Los Angeles-class submarine, to Australia.
Such an approach will be the easiest and fastest way to reach the goal. By equipping Australia with second-hand weapons, the US can build Australia's submarine fleet into its own squadron in the Indo-Pacific region. And Washington, not Canberra, will have the final say on what weapons will be deployed on the vessels and where the fleet will be deployed.
The US' suppression against China and Russia won't stop, as doing so helps the US maintain its own established international order. For China, the best way to cope with it is to keep strengthening ourselves and master more methods to defend our national security, sovereignty, and development interests. Only when a country is strong enough, will others show respect.
At present, China still needs to make all efforts to develop its economy, science, technology, and especially national defense capabilities. Without a strong national defense, nothing is possible.