Typhoon hits S. Korea after Japan battered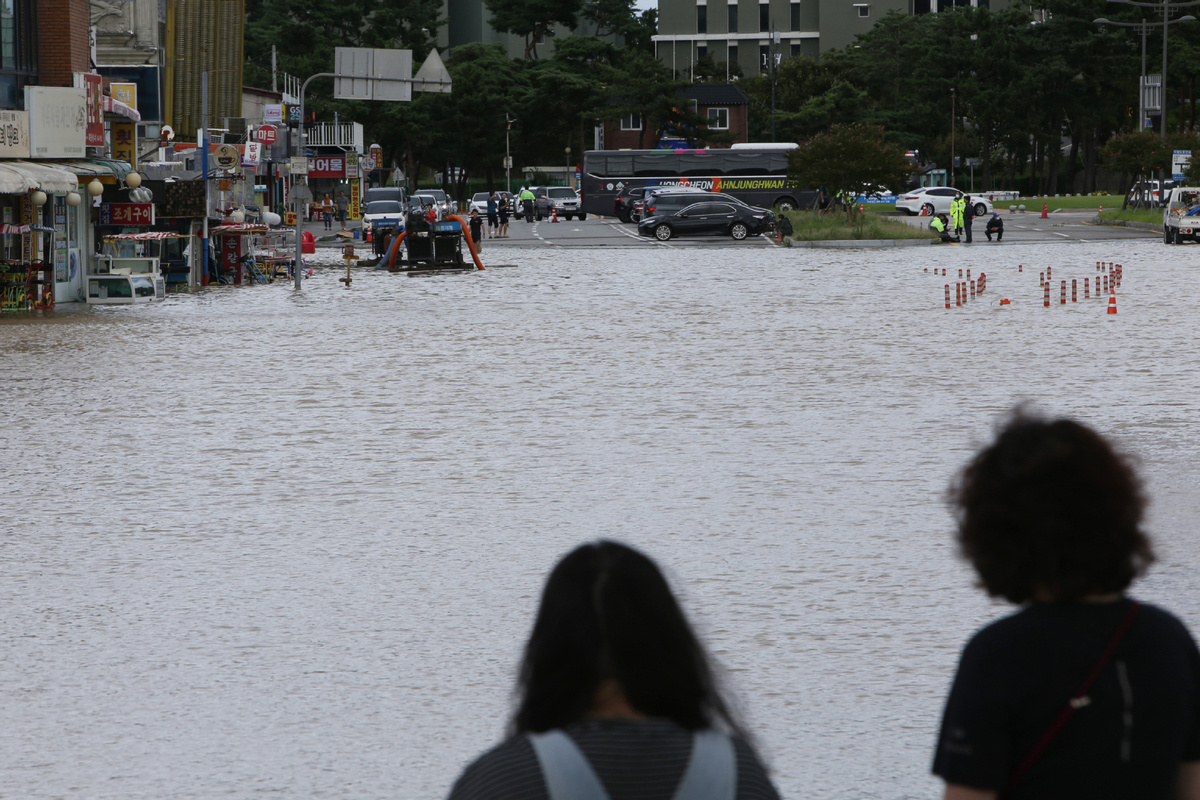 A flooded street in Gangneung of Gangwon province, South Korea on Sept 7, 2020. Typhoon Haishen made its landfall in South Korea's southeastern coast on Monday. (Photo: Xinhua)
Typhoon Haishen came ashore in South Korea on Monday after slamming through southern Japan, where it left four missing and more than 50 injured.
The storm, which carries top sustained winds of up to 144 kilometers per hour, made landfall in Ulsan, just north of Busan, South Korea's second-largest city, said the country's weather agency. The typhoon cut off power to more than 17,500 households in the area.
Footage of local broadcaster KBS showed the typhoon had caused landslides near apartment buildings on Geoje Island, and cars struggled to navigate flooded roads in cities like Ulsan, Busan and Sokcho.
In Japan, the storm passed through the prefecture of Okinawa and the island of Kyushu, causing landslides and uprooting trees.
A woman in her 60s and her son in his 30s as well as two Vietnamese were reported missing after a mudslide struck a construction site in the village of Shiiba, in Miyazaki prefecture of Kyushu, local authorities said.
Meanwhile, a Kyodo News tally showed that at least 52 people were injured in Kyushu and elsewhere in Japan due to the typhoon.
According to Kyushu Electric Power, as of Monday morning, the wild weather had led to more than 448,000 homes mainly in Kagoshima and Nagasaki prefectures losing power.
As Haishen headed for the Korean Peninsula, however, the Japan Meteorological Agency on Monday still urged people in Japan to stay on alert because torrential rains, strong winds and tidal surges may happen in some areas.
On Sunday, the agency had issued its highest-level warning for the storm, saying it would bring record-high tides and people should be prepared for "large-scale flooding".
"High tides combined with large waves could top coastal sea walls and inundate a wide area," it said in a statement on its website.
1.8m ordered to leave
The Japanese government, at one point, ordered 1.8 million people to evacuate in seven prefectures across the region and had recommended some 5.8 million others to seek shelter ahead of the storm.
Though the Japanese weather agency said the strongest gusts on record were observed at more than 30 locations in the country, including one recorded at 214 km/h in Nagasaki city on Monday, initial assessments suggest that Typhoon Haishen did less damage than feared.
"I stayed in a hotel to respond to emergencies with my family," a man in his 40s in Okinawa told China Daily. "But it seems that it wasn't that severe as reported".
The Korea Meteorological Administration said the typhoon was weakening, with its maximum winds measured at 108 km/h after blowing at 144 km/h in the morning, and it was forecast to be downgraded to a tropical storm within 12 hours.