S.Korean president's approval rating falls below 50 pct for 1st time
SEOUL, Nov. 29 (Xinhua) -- South Korean President Moon Jae-in's approval rating fell below 50 percent for the first time since he took office in May last year, a weekly poll showed Thursday.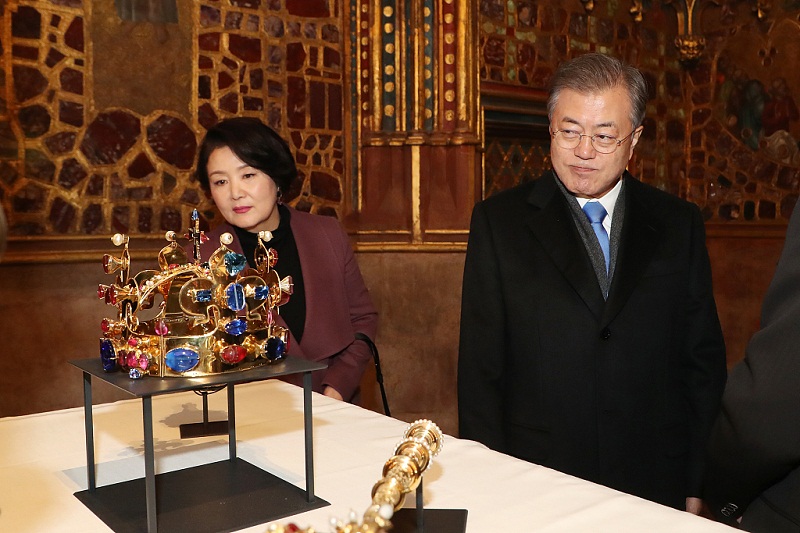 Photo: VCG
According to the Realmeter survey, support for Moon declined 3.2 percentage points over the week to 48.8 percent this week, continuing to fall for the ninth consecutive week.
It marked the first time since his inauguration that the support scores slipped below 50 percent, though his approval rating stayed at the highest level compared with his predecessors in the second year of the five-year presidency.
The result was based on a poll of 1,508 voters conducted from Monday to Wednesday. It had 2.5 percentage points in margin of error with a 95 percent confidence level.
The continued fall in Moon's support rating was attributed to the worsening of economic indicators, especially the worsened labor market conditions.
The Moon government prioritized job creation among the younger generation, but it had yet to take effect. Income gap between the rich and the poor widened further according to recent data.
Support for Moon's ruling Democratic Party shed 1.6 percentage points over the week to 37.6 percent this week. It was followed by the main opposition Liberty Korea Party, of which approval rating gained 3.3 percentage points to 26.2 percent.
The minor progressive Justice Party won 8.2 percent of support, while the minor conservative Bareun Future Party garnered 5.9 percent in support scores. The center-left Party for Democracy and Peace gained three percent of support.