Chinese doctors win hearts of Ghanaian counterparts
、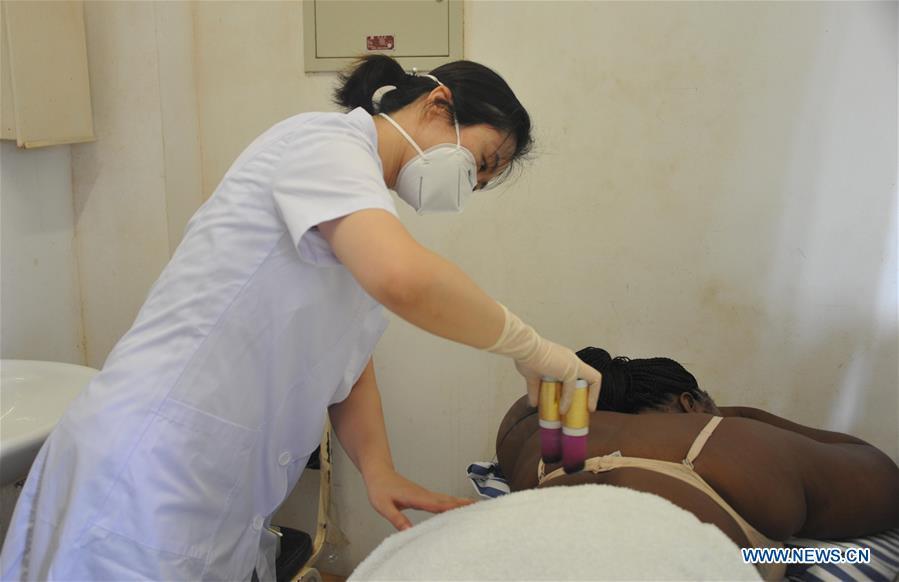 Liu ChenLiu, a member of the Chinese medical team, applies traditional Chinese medicine(TCM) therapy to a local patient at LEKMA hospital, in Accra, capital of Ghana, Sept. 1, 2020. (Xinhua/Xu Zheng)
ACCRA, Sept. 3 (Xinhua) -- The life of middle-aged Sandra Ashong, a doctor at the LEKMA Hospital located in Ghana's capital city Accra, has been a hard struggle since she has to carry on with her duties despite suffering from a long-time back pain.
"I wake up in the morning with severe back pain around my waist. It also pained me a lot while I'm working," said Ashong.
Backache is common in the West African country, which is normally caused by overwork and obesity. The figure from health authorities shows that almost six out of every 10 people are suffering from the condition.
Being aware of the curative effect of traditional Chinese medicine (TCM) therapy on the illness, Ashong turned to her Chinese counterparts in the LEKMA Hospital, where the Chinese medical team sent by the Chinese government is based.
With two small tubes filled with burning traditional Chinese herbs in her hands, Liu Chenliu, a member of the Chinese medical team, patiently applied the therapy to her patient.
After a while, Ashong felt an intense heatwave over her back with the whole body relaxed and backache relieved.
"I don't want to take pain killers, so I usually prefer to do the therapy, because if you do it, it is able to sustain you for a very long time and I don't really feel the pain," Ashong said.
"The whole process normally lasts between 20 and 30 minutes," Liu explained. "The traditional Chinese medicine herbs in that tube contain many kinds of variables and materials and when they burn, the released heat helps relieve the pain, and helps them get better."
According to Liu, TCM therapy has gained more popularity in Ghana as more and more local patients recovered with the help of Chinese medical professionals in the country.
Despite the prevalence of the COVID-19 pandemic here, the number of local patients lining up in front of the Chinese doctors' consulting room shows no signs of abating. In the meantime, the Chinese doctors have continued with their work irrespective of the challenges posed by the pandemic.
According to Shi Yongyong, chief of the Chinese medical team in Ghana, the team has been committed to sharing experience with their Ghanaian counterparts and supporting the hospital with medical supplies in the wake of the COVID-19 pandemic.
Having been in the West African country for some eight months now, Shi said despite the difficulties such as occasional power outage and water supply shortage in the hospital, he and his colleagues would never stop fulfilling their duties here.
Commending Chinese doctors' hard work and superb expertise, the hospital's head of clinical services Doreen Atta-Fynn said the nine batches of Chinese doctors dispatched by the Chinese government so far have contributed a lot to healthcare delivery in the country. "They fit the spaces that we need," She said.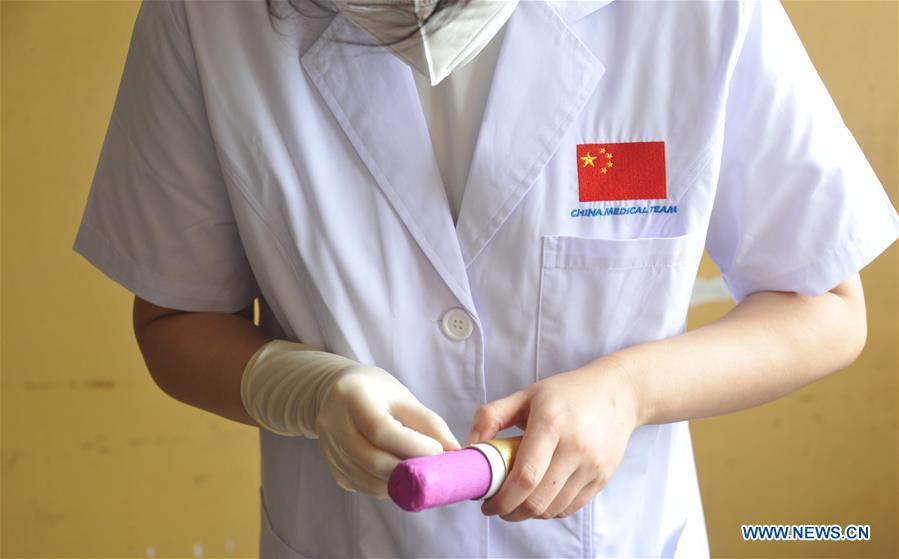 Liu Chenliu, a member of the Chinese medical team, prepares traditional Chinese medicine(TCM) therapy material before treating a local patient at LEKMA hospital, in Accra, capital of Ghana, Sept. 1, 2020. (Xinhua/Xu Zheng)