The latest: COVID-19 outbreak worldwide (Updated August 6)
People's Daily app
1628243190000
The total number of deaths from the COVID-19 pandemic worldwide has increased to 4,267,859 with the global confirmed cases reaching 200,939,775 as of 5:30 pm BJT on Friday, according to a tally by Johns Hopkins University.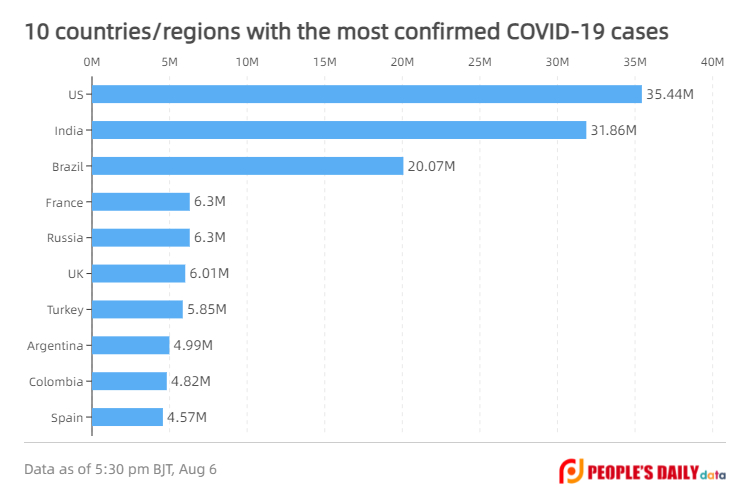 Current status (data as of 5:30 pm BJT, August 6):
India's COVID-19 tally rose to 31,856,757 on Friday as 44,643 new cases were registered during the past 24 hours across the country, according to the federal health ministry's latest data.
Thailand reported a record number of 21,379 new COVID-19 cases on Friday, including 4,700 in the capital Bangkok, taking the national tally since the pandemic began to 714,684.
Mongolia registered 1,246 new COVID-19 cases over the past 24 hours, taking the national tally to 171,097, the health ministry said Friday.
COVID-19 cases in Uzbekistan rose by 974 in the past 24 hours to reach 134,826, the highest daily count since the beginning of the year, the health ministry said on Friday.
Cambodia on Friday confirmed a daily record of 588 COVID-19 cases, pushing the national caseload to 80,813 so far, the Ministry of Health (MoH) said in a statement.
Pakistan on Thursday confirmed 4,745 new COVID-19 cases, the National Command and Operation Center (NCOC) said on Friday.