153 killed, 103 injured in Halloween stampede in S.Korea's Seoul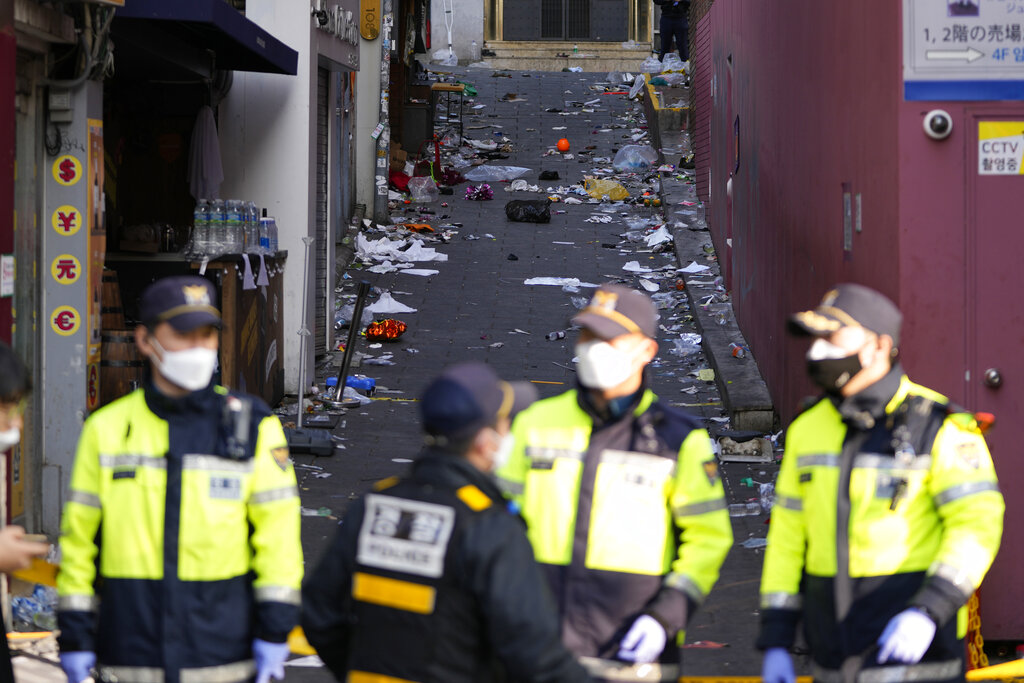 SEOUL, Oct. 30 (Xinhua) -- At least 153 people were killed and 103 others injured in a stampede that occurred Saturday night at Itaewon, a district of the South Korean capital Seoul, during Halloween gatherings, local authorities said Sunday.

It was the country's deadliest disaster since a ferry sinking incident left 304 people dead in April 2014.
The death toll could rise as 24 people were seriously wounded. Twenty-two foreigners were among those killed in the incident, according to the authorities.
The stampede was believed to have been caused by huge crowds surging into a narrow downhill alley and toppling over one another at the popular nightlife district in Seoul.
The alley, with a width of just four to six meters, was overpacked with partygoers, who moved slowly up and down the steep alley linked to bars and restaurants.
Some of them fell over on the alleyway, which got slippery due to liquor and beverage spilled and leaflets scattered, before others toppled one after another like a domino, multiple local media reported, citing witnesses.
"People kept pushing down into a downhill club alley, resulting in others screaming and falling down like dominoes," an unidentified witness said in a social media post.
"I thought I would be crushed to death too as people kept pushing without realizing that there were people falling down at the start of the stampede," the survivor wrote.
An estimated 100,000 people have gathered at Itaewon for the country's biggest no-mask outdoor Halloween event since the outbreak of the COVID-19 pandemic in 2020.
The country has lifted all anti-virus measures, except for an indoor mask mandate, since April.
Most of the victims were those in their late teens and 20s. Among the dead, 97 were women who are relatively not strong enough to bear the crush.
Because of the massive gatherings, the police and rescuers had difficulty approaching the scene.
The high death toll was also caused by the lack of paramedics required to administer cardiopulmonary resuscitation (CPR) one on one for those suffering cardiac arrest and breathing difficulties.
According to some local media, the stampede occurred when some people were rushing to a bar where an unidentified celebrity visited, but it was not confirmed yet. The exact cause of the incident was under investigation.
South Korean President Yoon Suk-yeol on Sunday announced a period of national mourning over the tragedy.
"This is truly horrific," he said in a televised national address. "The government will designate the period from today until the incident is brought under control as a national mourning period and will place top priority on administrative affairs in recovery and follow-up measures."
He also expressed condolences over the deaths and wished a speedy recovery for the injured.
Immediately after the address, Yoon visited the scene in Itaewon.
The president ordered all government offices to lower their flags to half-mast, according to his office.
South Korean Prime Minister Han Duck-soo told reporters that the mourning period would last from Sunday until Saturday at Yoon's instructions.