S.Korea cuts rates to all-time low of 0.75 pct in emergency move
SEOUL, March 16 (Xinhua) - South Korea's central bank cut interest rate to an all-time low of 0.75 percent Monday in its first emergency move since the 2008 global financial crisis in order to help the economy weather the expected global economic slowdown caused by the COVID-19 outbreak across the world.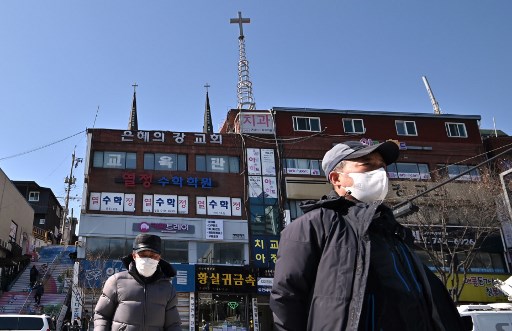 Pedestrians wearing face masks cross a road in front of a building housing the Grace River Church (background), where 46 people were confirmed to have the COVID-19 coronavirus, in Seongnam on March 16, 2020. (Photo: AFP)
Bank of Korea (BOK) Governor Lee Ju-yeol convened an emergency monetary policy meeting, deciding to slash the benchmark seven-day repurchase rate from the previous record high of 1.25 percent to a fresh low of 0.75 percent. The policy rate fell below 1 percent for the first time.
It marked the third time that the central bank took an emergency step. The BOK lowered its target rate by 50 basis points in September 2001 and by 75 basis points in October 2008 each in its past emergency moves.
The BOK said in a statement that since its latest rate-setting meeting in late February, concerns deepened over the global economic slump with the COVID-19 spreading across the globe.
It noted that the virus-hit volatility in the global financial market and the plunging oil price led the central bank to take more accommodative policy stance to help ease market volatility and reduce its effect on growth and prices.
Given the "very high" uncertainties over economic and financial situations at home and abroad, the BOK vowed to leave the target rate there to relieve downside risks to the economy and volatility in the financial market.
South Korea's rate cut came a day after the U.S. Federal Reserve slashed its key rate by a full percentage point to a range between zero and 0.25 percent and pledged to buy 700 billion U.S. dollars of U.S. government and mortgage bonds for a liquidity supply.
On March 3, the Fed lowered its target rate by half a percentage point as the COVID-19 spread to Europe and the United States.
South Korea's benchmark Kospi index ended 3.2 percent lower on Monday as foreign investors dumped local stocks for the eighth consecutive session.
The won/dollar exchange rate closed at 1,226.0 won per dollar, posting the highest in about four years.