Sweden, UK to explore possibilities for future combat aircraft development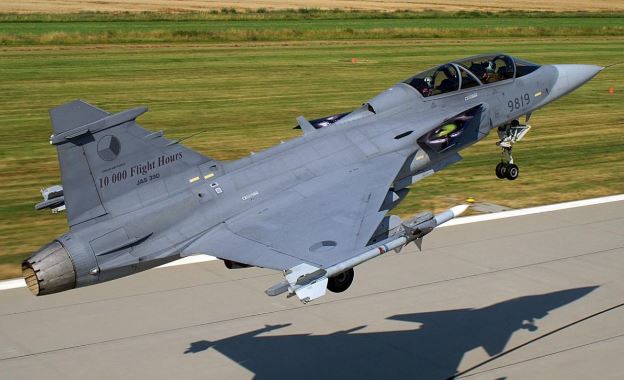 (Sweden's JAS 39 Gripen. Photo: yahoo)
STOCKHOLM, July 19 (Xinhua) -- Sweden and the UK have agreed to explore possibilities for joint development of future combat aircraft, a press release issued by the Swedish government said on Friday.
Swedish Minister for Defence Peter Hultqvist and UK Secretary of State for Defence Penny Mordaunt signed a Memorandum of Understanding (MoU) on Thursday.
"It is an opportunity for a strategic partnership in which we safeguard technology development, research, and then see how we can, in different ways, develop something that is good for both parties," Hultqvist told Swedish news SVT.
The MoU is the starting point for the two countries to analyse possibilities for deeper cooperation on the development of future combat aircraft capabilities, including future development of Sweden's current combat aircraft, the JAS 39 Gripen.
The agreement will be valid for 10 years, during which time the two countries are free to investigate similar possibilities with other parties, but may decide to fully initiate a bilateral development and procurement project.
Sweden's JAS 39 Gripen will continue to be the backbone of Swedish combat aircraft capabilities for the foreseeable future, with 60 latest-model planes to be delivered starting in 2020, according to SVT.
In Friday's press release, the government states that this collaboration offers the opportunity to further insert advanced technologies into JAS 39 Gripen.
"Developing fighter aircraft is an extremely long-term process, so we actually think it's time to start with what will be the next generation after JAS Gripen 39 E," Hultqvist told SVT. "That the state is involved in this is primarily about how we develop Swedish defense capability in the long term and how we manage the defense of Sweden's airspace," he added.
The MoU will remain valid regardless of Brexit, Hultqvist told SVT.
"We have extensive cooperation with the UK when it comes to defense, and this will remain regardless of whether they leave the EU or not," Hultqvist noted.