Berlin's baby pandas make first public appearance
Two baby pandas have been unveiled at Berlin Zoo.
Their parents were loaned from China to Germany in 2017 as a symbol of the friendship between the two countries.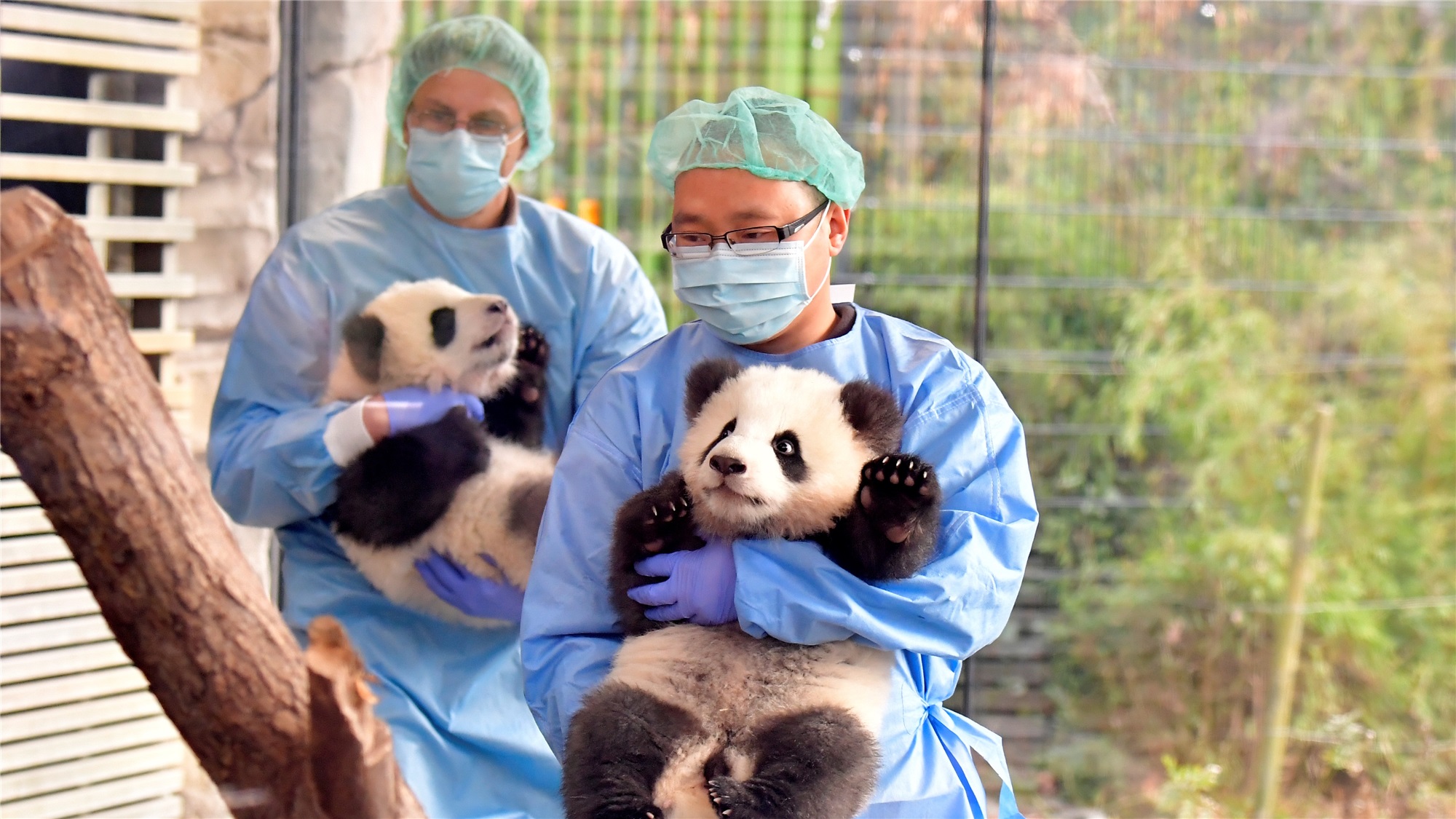 Meng Yuan and Meng Xiang in their enclosure during their first presentation to the public. (Photo: AFP)
Berlin Zoo pays $15 million for a 15-year contract to host the two adult pandas, with most of the money going towards a conservation and breeding research program in China. Despite being born in Berlin, the panda cubs remain Chinese and must be returned to China within four years after they have been weaned.
Meng Xiang and Meng Yuan – whose names mean "long-awaited dream" and "dream come true" – are still finding their feet as the latest star attraction at the zoo.
Members of the public were able to see them for the first time on Thursday morning as they played in their newly refurbished "Panda Garden," where they tumbled off bars in their specially modified play pen.
The two cubs were the first pandas to be born in a German zoo and have been nicknamed "Pit" and "Paule" by their carers. Alongside their parents Meng Meng and Jiao Qing, the twins are the only pandas currently on show in Germany.
Mother Meng Meng clearly runs a tight household. At one stage, she appeared to scold one of them (it's hard to tell which, as they look very similar), taking it by the scruff of the neck and dragging it away from the prying eyes of the public to a quieter location for a nap. Meng Meng seemed agitated and protective at times, too, perhaps still wary of all the attention.
She will have to get used to it. These two cubs were kept hidden away for the first five months of their lives, but are likely to remain the center of attention here for some time. How the lions, housed in the same section of this zoo, feel about playing second fiddle to the new arrivals is not immediately clear.
Meng Meng and Jiao Qing also stole the show when they first arrived in 2017. Chinese President Xi Jinping and German Chancellor Angela Merkel even came to the unveiling. The hope was always procreation, but it is notoriously hard to get pandas to mate. However, in late August last year the two tiny cubs were born.
As pandas grow, so does their hunger. The zoo imports bamboo from the Netherlands on a weekly basis and stores it in a giant fridge next to the "Panda Garden". Another famous fact about pandas, of course, is that this is all they eat. A team of caretakers is charged with looking after the panda family, including Anja Seiferth, who is clearly excited by the task. "This is the best job I can imagine," she said. "It is simply amazing."
The zoo's director, Andreas Knieriem, also attended the first public showing of the pandas. He said: "We're talking about giant pandas – they're special, they're fluffy." Adding: "They're the face of nature conservation."
There are only about 2,000 wild pandas left on Earth. China's breeding efforts are helping boost numbers, to the extent that the creatures are now officially classified as "vulnerable," rather than "endangered". Meng Xiang and Meng Yuan are part of the reason why.