France steps up security for its troops in Iraq, says minister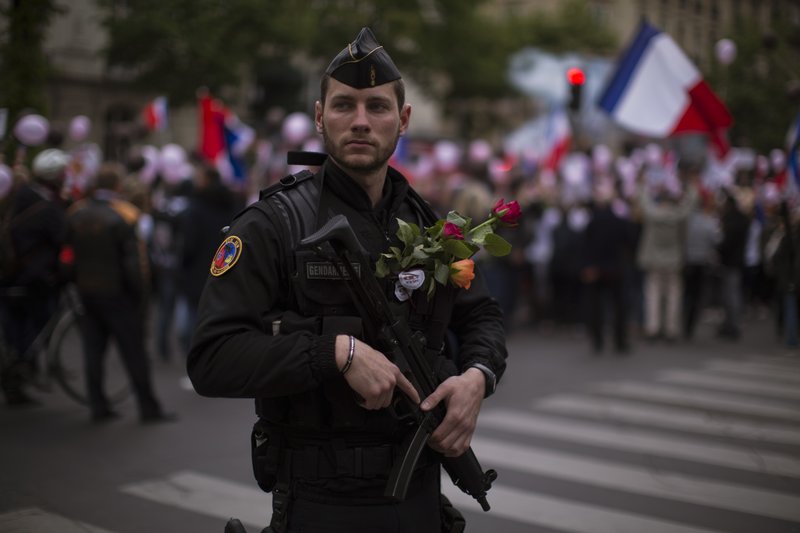 A French riot police officer carries flowers given to him by a protestor who demonstrated with others in what was described as a march of support for all French security forces, in Paris, Saturday, April 22, 2017. (Xinhua)
PARIS, Jan. 7 (Xinhua) -- Measures to ensure safety of French forces stationed in Iraq have been taken after a U.S. drone strike killed Qassem Soleimani, commander of the Quds Force of Iran's Islamic Revolution Guards Corps, France's Minister of the Armed Forces Florence Parly said on Tuesday.
"Given the events in Baghdad, France had already reinforced security for its 160 soldiers deployed in Iraq. Everything is done to ensure their safety," Parly said in a tweet.
"France will continue to be a force of balance, and (its) military forces will contribute to that with their posture of firmness and moderation," she added.
The French minister reiterated that priority was the fight against Islamic State (IS) militants. "This is why the easing of tensions in Iraq and in the region is vital: the international anti-Daesh (Arabic acronym for IS) coalition must be able to continue its mission," she said.
In an extraordinary session on Sunday, Iraq's parliament voted with majority in favor of passing a law to cancel the request for assistance from the international coalition to fight IS group and prevent U.S. and other foreign troops from using Iraqi airspace and water.
The vote came two days after the killing of Soleimani raised fears of escalating conflict in the region.
France was one of the first European countries to join the international coalition against the IS. Its fighter jets bombed the group in Iraq in 2014 and then IS targets in Syria a year later. It also provided training and logistical support to Iraqi and Kurdish forces.