The latest: COVID-19 outbreak worldwide (Updated April 30)
People's Daily app
1588246666000
Globally, as of 2:00am CEST on Thursday, there have been 3,059,642 confirmed cases of COVID-19, including 211,028 deaths, reported to WHO.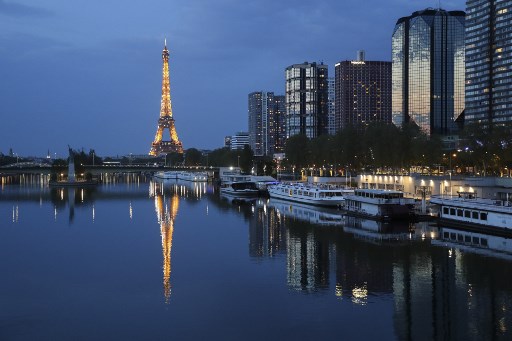 General view of the illuminated Eiffel Tower reflected on the Seine river in Paris at night, on April 12, 2020, during a strict lockdown in France to stop the spread of COVID-19. (Photo: AFP)
Current status (data as of 7:30 pm BJT, April 30):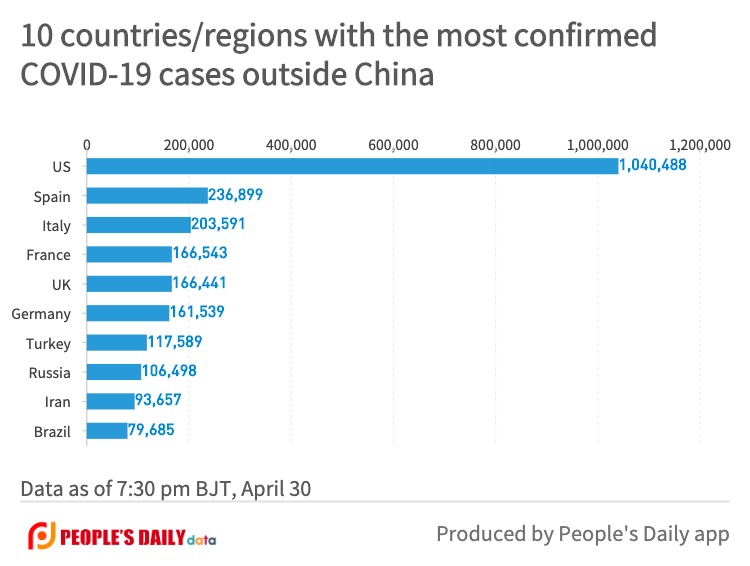 Sources: Johns Hopkins University, national public health agencies.
The outbreak has now claimed the lives of at least 60,999 people in the US, the most of any country. The US also leads the world in the number of confirmed infections with 1,040,488, according to a tally by Johns Hopkins University as of 5:32 pm BJT on Thursday.
Spain has recorded 236,899 confirmed cases and 24,275 deaths.
The coronavirus pandemic has infected 203,591 in Italy, with the death toll at 27,682.
France's confirmed cases have increased to 166,543, with the number of deaths at 24,121, according to the JHU virus tracker.
A total of 166,441 people in the UK have tested positive for COVID-19, with the number of deaths increasing to 26,166, according to the JHU virus tracker.
It is followed by Germany with 6,467 deaths from 161,539 infections.
Turkey has confirmed a total of 117,589 COVID-19 cases, raising the number of deaths to 3,081.
There have been 106,498 who tested positive for COVID-19 and 1,073 who have died from the virus in Russia.
Iran has reported 93,657 COVID-19 cases and 5,957 deaths from the virus so far.
Confirmed cases of COVID-19 in Brazil have increased to 79,685 with 5,513 deaths, Johns Hopkins reported.