The latest: COVID-19 outbreak worldwide (Updated September 13)
People's Daily app
1599958251000
The total number of deaths from the COVID-19 pandemic worldwide has increased to 917,417 with the global confirmed cases reaching 28,606,726 as of 8.30 am BJT on Sunday, according to a tally by Johns Hopkins University.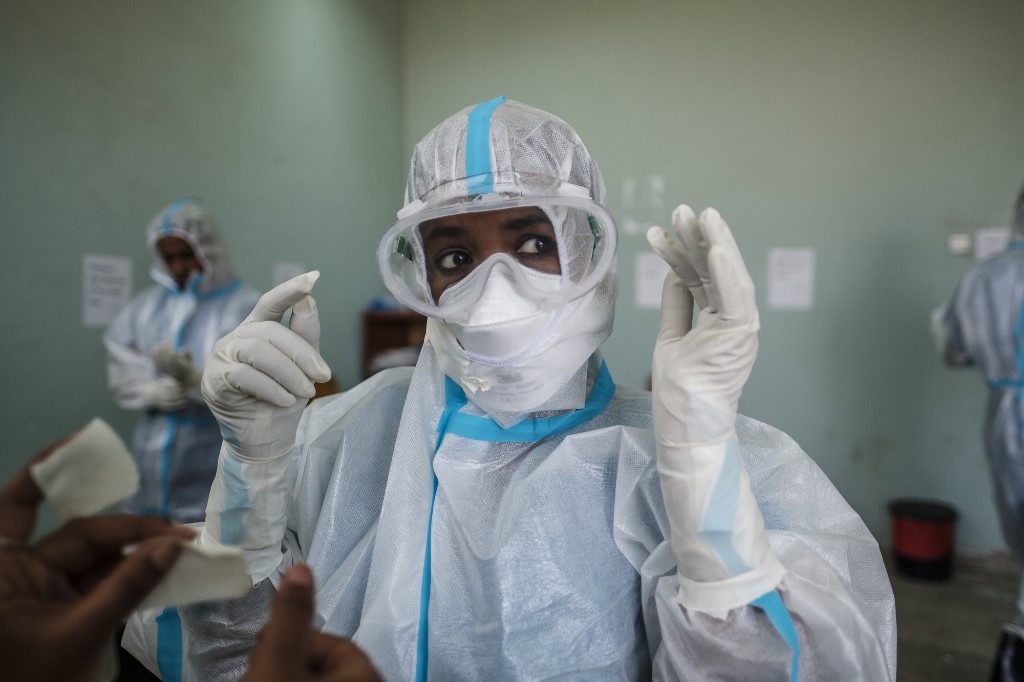 Health workers dress themselves with personal protective equipment (PPE) at the Mekele COVID-19 Isolation and Treatment Center, in Mekele, Ethiopia, on September 7, 2020. (Photo: AFP)
Current status (data as of 8.30 am BJT, September 13):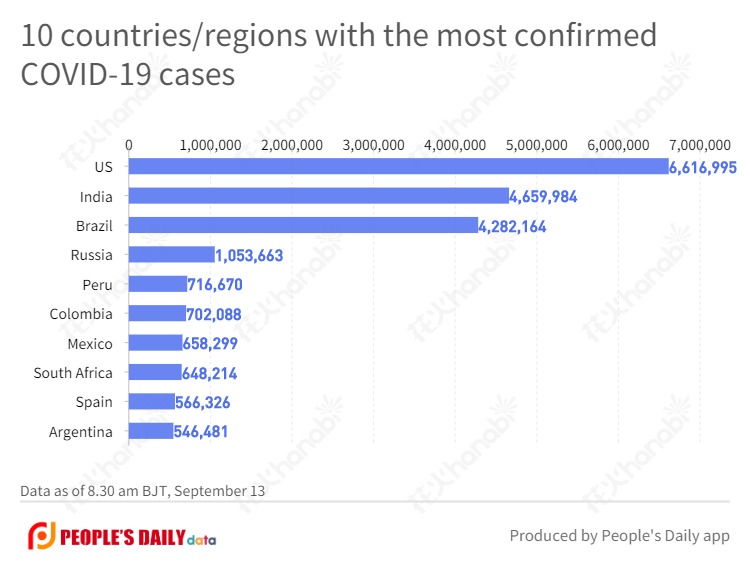 Sources: Xinhua, Johns Hopkins University, national public health agencies.
The outbreak has now claimed 197,258 lives in the US, the most of any country, with a total of 6,616,995 infections, according to a tally by the 1Point3Acres virus tracker as of 8.30 am BJT on Sunday.
India's total COVID-19 tally rose to 4,659,984 and the number of deaths surged to 77,472, according to the latest data issued by the federal health ministry on Saturday.
Brazil has registered 130,396 deaths from the novel coronavirus disease, raising the total number of cases to 4,282,164, the Ministry of Health reported on Saturday.
Russia took its total to 1,053,663, the country's COVID-19 response center said in a statement Saturday.
Peru has reported 716,670 COVID-19 cases and 30,470 deaths from the virus so far.
The Colombia's confirmed cases have increased to 702,088 with the number of deaths at 22,518, according to the JHU virus tracker.
It is followed by Mexico with 70,183 deaths from 658,299 infections.
South Africa has recorded 648,214 confirmed cases and 15,427 deaths.
The coronavirus pandemic has claimed 29,747 lives in Spain, bringing the total number of infections to 566,326.
A total of 546,481 people in Argentina have tested positive for COVID-19, with the death toll at 11,263.