France braces for fresh heatwave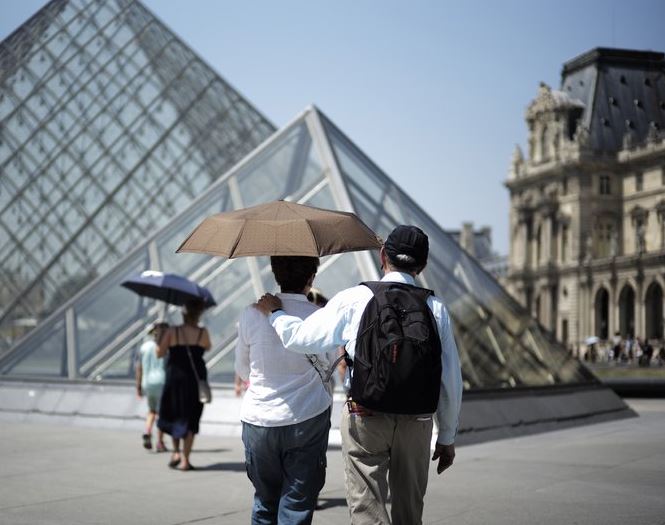 (Photo: AP)

PARIS, July 19 (Xinhua) -- France is expected to swelter in temperatures of 35-40 degrees Celsius this weekend as a new heatwave is set to engulf most French cities till early next week, Meteo France, the country's weather agency forecast on Friday.
"As of Saturday, the mercury is on the rise... We expect a second episode of heatwave which could last several days," the agency said.
An expected hot air from Spain will make temperature climb to between 30 and 35 degrees Celsius in northern cities. The temperature would swing between 35 and 39 degrees in southwestern region where a hotspot of 40 degrees was predicted on Tuesday.
The weather is expected to be much cooler since Wednesday, Meteo France forecast, noting that a drop in temperature would be confirmed "in the next few days."
An extreme hot weather brought record-breaking temperature to most French regions at the end of June.
It reached 45.9 degrees Celsius -- the highest on record -- in the southern city of Gallargues-le-Montueux. It was nearly two degrees above the previous high of 44.1 degrees Celsius recorded in August 2003.
Speaking to France info radio, French Health Minister Agnes Buzyn said the government would activate the heatwave action plan "according to the degree of severity" of the new heatwave.
"This plan is adapted by region because the heatwave will not affect the entire territory and will be less long, less extensive and less severe than the previous episode," the minister added.
The action plan includes the establishment of "cool rooms" in municipal buildings, opening pools for late-night swimming and offering access to garden parks by nightfall to help people cool off.