Turkish air strikes hit northern Syria, killing at least 12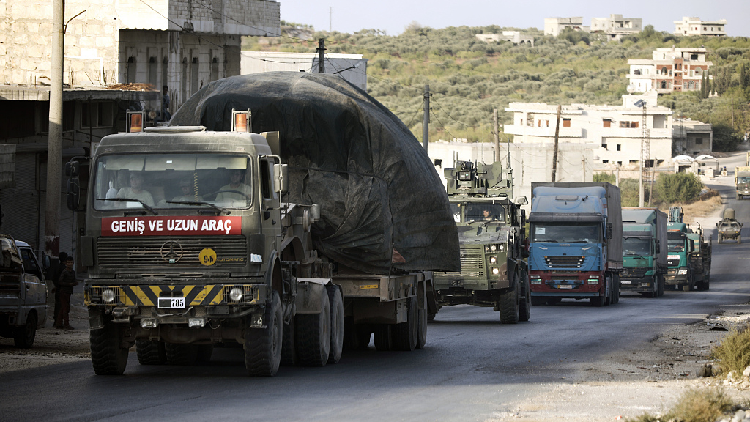 Turkish aircraft have shelled two villages populated with internally displaced people in northern Syria, a spokesman for the Kurdish-led Syrian Democratic Forces (SDF) said on Twitter late on Saturday.
Twelve members of the SDF and Syrian government forces were killed by Turkish shelling, according to the Syrian Observatory for Human Rights, a London-based non-governmental organization.
The Turkish Defense Ministry confirmed the reports early on Sunday, saying that the strikes targeted bases of the Kurdistan Workers Party (PKK) and the Syrian Kurdish YPG militia, which Türkiye says is a wing of the PKK.
"Terrorist hotbeds razed by precision strikes," the ministry said in a Twitter post, which was accompanied by a video showing a target being selected followed by an explosion.
Türkiye said on November 15 that it planned to pursue targets in northern Syria after it completed a cross-border operation against PKK militants in Iraq, following a deadly bomb attack last weekend in Istanbul.
The government has blamed Kurdish militants for the blast on Istanbul's Istiklal Avenue on November 13 that killed six people and injured more than 80. No group has claimed responsibility, and the PKK and SDF have denied involvement.
While Ankara did not give details of the operation, Kurdish forces said Kobane in northeast Syria had been hit by Turkish raids.
"#Kobane, the city that defeated ISIS, is subjected to bombardment by the aircraft of the Turkish occupation," tweeted Farhad Shami, a SDF spokesman.
Türkiye has conducted three operations so far into northern Syria against the YPG militia. President Tayyip Erdogan has previously said Türkiye could conduct another operation against the YPG.