At least 52 injured after powerful Typhoon Haishen hits Japan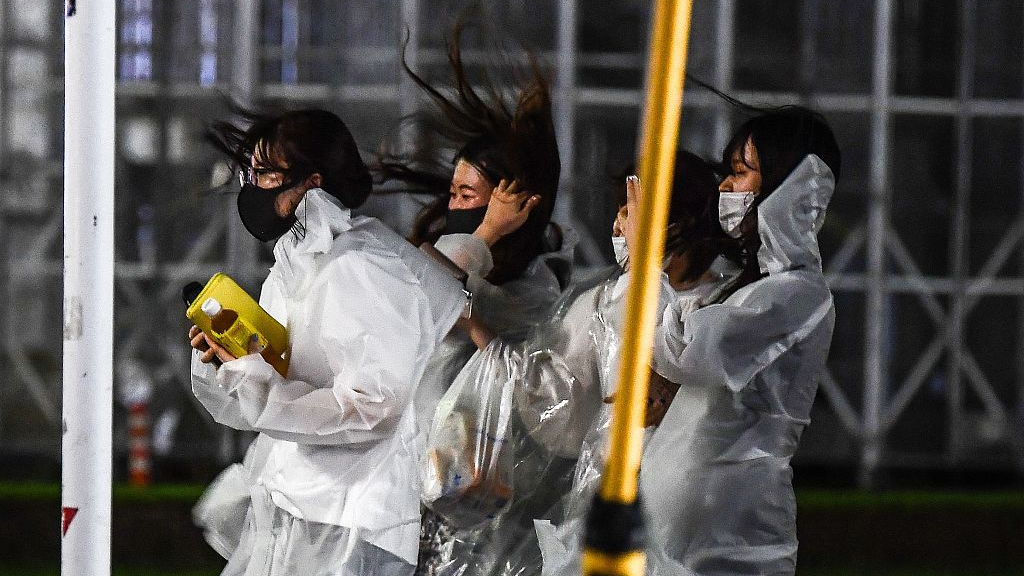 Women walk in heavy rain as Typhoon Haishen hits Kagoshima, Kagoshima prefecture, Japan, on September 6, 2020. /VCG
At least 52 people were injured in Japan after Typhoon Haishen lashed the coast with high winds and threatened record-breaking flooding, according to Kyodo News Agency.
The typhoon is causing heavy rain in wide areas of the country, with advisories to evacuate promptly issued to 6.74 million people in 11 prefectures.
More than 500,000 households are without electricity.
It is also affecting travel badly. About 580 domestic flights are canceled on Monday, reported NHK. These include flights to and from the Shikoku and Chugoku regions as well as Kyushu.
All Kyushu Shinkansen trains are also canceled on Monday, along with all Sanyo Shinkansen trains between Hakata and Hiroshima, according to the report.
So far, the storm has passed Japan and made landfall in South Korea, according to South Korea's weather agency.
As it was traveling closer to Busan, it cut off power, toppled trees and snapped a traffic light. Some 580 houses lost power in the southern part of the city, reported Yonhap News Agency.
A total of 298 flights have been grounded nationwide, according to the Korea Airports Corporation. Trains running between Busan and nearby cities have been halted, while subways were operating as usual, with slower speeds on some open air routes, Yonhap reported.
It is expected that the typhoon will land in Jilin Province, northeast China, on Tuesday morning, China's National Meteorological Center said.
This will be the third typhoon to hit China's northeastern region in half of a month.