Australian firefighters prepare to face 'megablaze'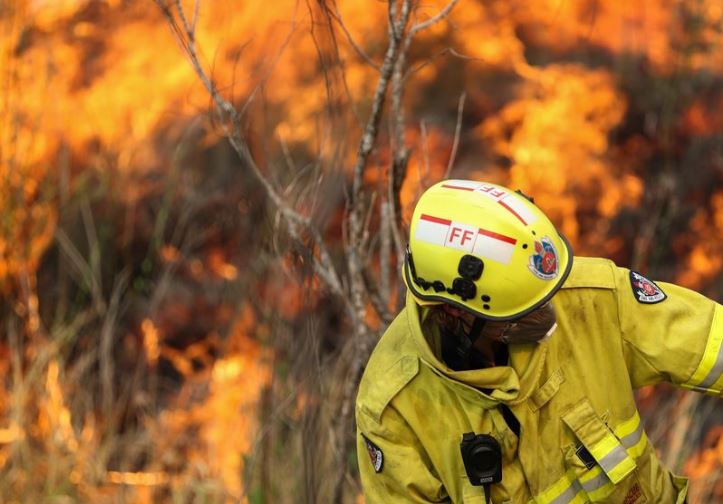 Australian bushfires continue to burn. (Photo: Xinhua)

SYDNEY, Jan. 7 (Xinhua) -- Despite weather conditions offering temporary reprieve for Australian firefighters early this week, there remained significant challenges across the country's south east, including the potential of several fires merging to create a "megablaze."
Since September 2019, the Australian bushfires have claimed the lives of at least 25 people and burnt over 6.3 million hectares, killing an estimated 480 million animals.
Milder conditions at the start of this week brought scattered rainfall and the opportunity for fire crews to get ahead of blazes by conducting back burning and fuel clearing operations.
Victorian State Control Centre spokesman Luke Heagarty told Xinhua on Tuesday that emergency services were working with communities to prepare ahead of predicted hot and windy conditions on Friday.
"It's going to take us a very long time to contain the fires fully, but what we can focus on is prioritising our efforts so that there's a reduction in the likelihood of impact to communities," Heagarty said.
The international response to Australia's disaster ramped up this week with many of the country's Pacific neighbours offering support.
Members of the New Zealand defence force will join 157 Kiwi firefighters already in Australia, while Papua New Guinea said that 1,000 troops and firefighters were standing by if required and Vanuatu pledged 20 million Vatu ($173,000) to assist the Rural Fire Service.
From further afield, an additional 21 specialist firefighters from North American touched down in Australia this week, joining roughly 100 US and 80 Canadian personnel already in the country, with more expected to arrive on Wednesday.
"The current situation is extreme, there's a lot of people that have been at it since September...so people are tired. We're here to relieve and try to lend a hand and give those folks a rest they direly need," Strategic Fire Planner from the US Forest Service, Tony Demasters told reporters.
Meanwhile several fires on the NSW and Victoria border edged closer to merging into a "megablaze" over half a million hectares in size.
As of Tuesday afternoon, an online crisis map showed barely one kilometre between the fires.
Victorian Emergency Management Commissioner Andrew Crisp said that the phenomenon was not unusual.
"We saw that with the Gippsland fires, we started with four fires that were separated which have now joined," Crisp said.
He added that this season crews have witnessed fires travelling as far as 30 kilometres overnight, making it vital that people in the vicinity of the blazes pay close attention to official instructions.
Local defence personnel helped move supplies by air to remote communities which in many cases had lost conventional means of communication.
"Whilst there's a number of isolated communities, we are in contact with the majority of those and providing them with what they need," Heagarty said.
Serious concerns were raised for the effect on Australia's fragile wildlife, with one University of Sydney academic, Professor Chris Dickman estimating that 480 million animals have perished in this fire season in NSW alone.
In the State of South Australia, a wilderness protection area known as Kangaroo Island experienced significant animal losses, including unique species, on top of the deaths of two people.
Fires tore through over 155 thousand hectares of pristine habitat known to be home to koalas, kangaroos, goannas and a range of other wildlife.
Co-owner of the Kangaroo Island Wildlife Park, Sam Mitchell told Guardian Australia that many of the injured wildlife had to be euthanized due to their injuries.
"We are seeing many burns to hands and feet -- fingernails melted off. For some the burns are just too extreme," he said.