The latest: COVID-19 outbreak worldwide (Updated October 9)
People's Daily app
1602210344000
Globally, as of 10 am BJT on Friday, there have been 36,002,827 confirmed cases of coronavirus, including 1,049,810 deaths, reported the World Health Organization.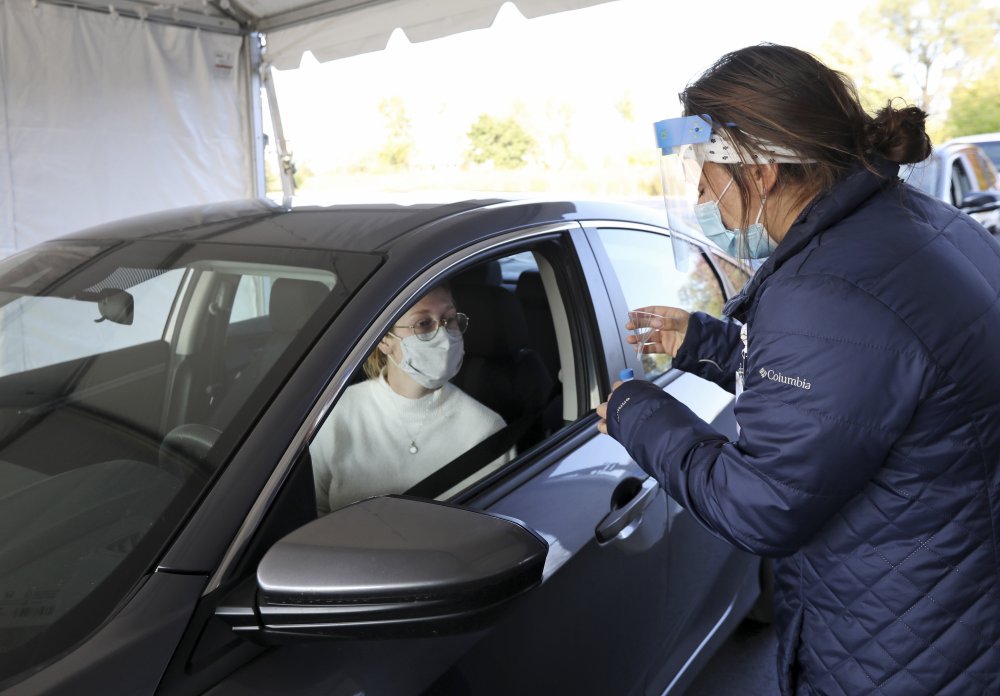 Nursing assistant Monica Brodsky, right, hands McKensie Burreson, of Madison, a funnel and vial for a saliva test that tests for COVID-19 at a drive-thru testing site in the parking lot at the UW Health Administrative Office Building in Middleton, Wis., Monday, Oct. 5, 2020. (Photo: AP)
Current status (data as of 10 am BJT, October 9):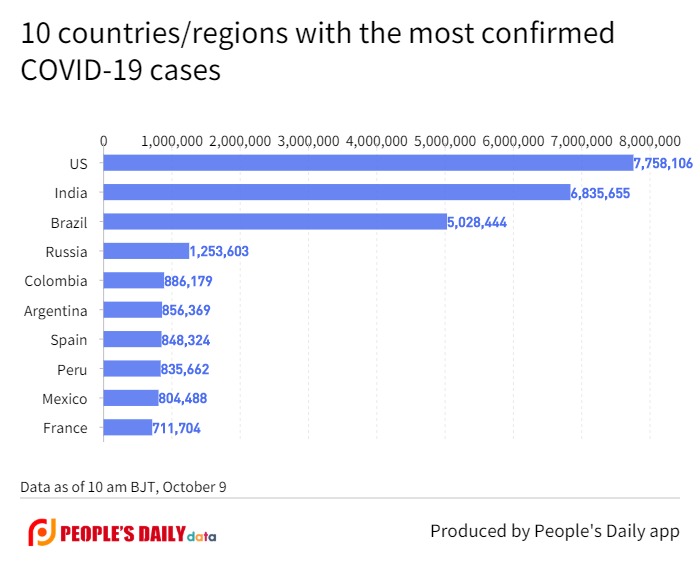 Sources: Xinhua, Johns Hopkins University, national public health agencies.
The outbreak has now claimed 216,814 lives in the US, the most of any country, with a total of 7,758,106 infections, according to a tally by the 1Point3Acres virus tracker as of 10 am BJT on Friday.
India has confirmed a total of 6,835,655 COVID-19 cases, raising the number of deaths to 105,526.
Confirmed cases of COVID-19 in Brazil have increased to 5,028,444 with 148,957 deaths, Johns Hopkins reported.
Russia has confirmed 1,253,603 cases of COVID-19, with the number of deaths at 21,939.
Colombia's confirmed cases have increased to 886,179, with the number of deaths at 27,180, according to the JHU virus tracker.
A total of 856,369 people in Argentina have tested positive for COVID-19, with the death toll at 22,710.
The coronavirus pandemic has claimed 32,688 lives in Spain, bringing the total number of infections to 848,324.
Peru has reported 835,662 COVID-19 cases and 33,009 deaths from the virus so far.
It is followed by Mexico with 83,096 deaths from 804,488 infections.
France has recorded 711,704 confirmed cases and 32,539 deaths.