US COVID-19 cases hit over 3,700 as efforts mount to curb spread
WASHINGTON, March 16 (Xinhua) - The number of COVID-19 cases in the United States has topped 3,774 as of Sunday night, as states and cities have imposed a slew of restrictions to curb the spread of the virus.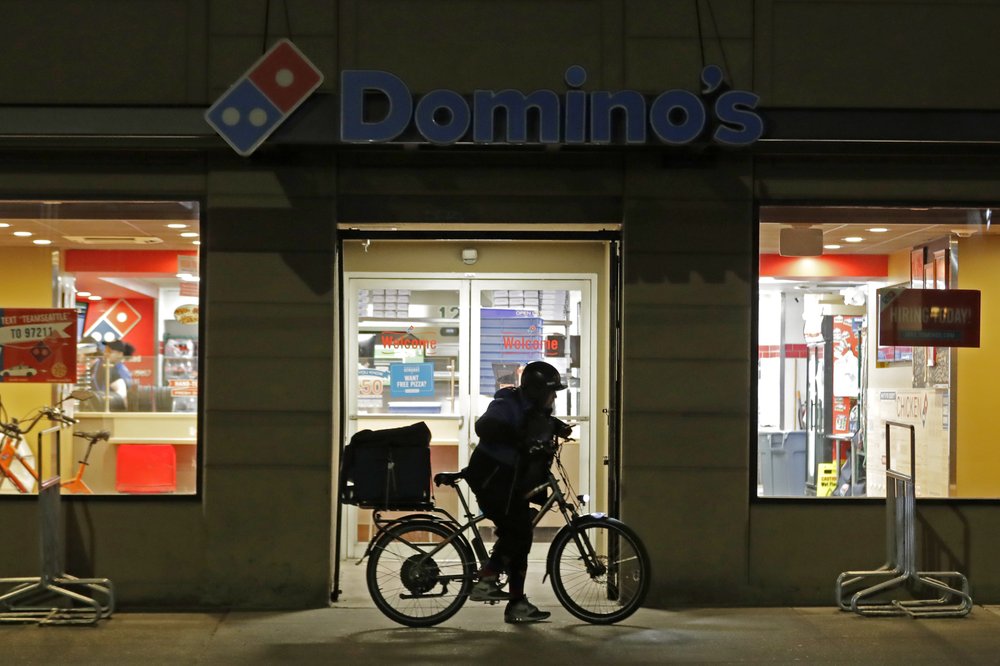 A delivery driver leaves a Domino's Pizza restaurant in downtown Seattle on a bike, Sunday, March 15, 2020. Washington Gov. Jay Inslee said Sunday night that he would order all bars, restaurants, entertainment and recreation facilities in the state to temporarily close to fight the spread of the COVID-19 coronavirus. (Photo: AP)
The Centers for Disease Control and Prevention is urging a nationwide halt to gatherings of more than 50 people for the next eight weeks, citing the risk of coronavirus infection.
At least four states and large cities, including New York City and Los Angeles, have effectively forced restaurants, bars and other businesses to close their doors.
Widespread school closures are also set to take effect. Worship services have been canceled and recreational and entertainment events are at a near-halt, bringing dramatic changes to the everyday lives of Americans.
Retailers across the United States are also closing their doors, as authorities are urging extreme social distancing.
"We should think about strategically placing a pause on the spread of the virus by having something akin to a series of 'snow days,' in which all but essential workers stay home," Robert Schooley, professor of medicine at the Division of Infectious Diseases and Global Public Health at University of California, San Diego, told Xinhua.
In Washington, the Federal Reserve said Sunday it would drop interest rates to zero, part of a sweeping emergency action to make borrowing costs as low as possible and protect the economy as it hurtles toward recession.
Chaos was witnessed at airports around the country, as workers struggled to carry out enhanced entry screenings for travelers arriving from Europe. Flights were delayed for hours and passengers were stuck in long lines as they received questions about their health and instructions to self-quarantine.
As local leaders work to curb the spread of the virus within the country, health officials have said they expect the number of cases to keep climbing as more people are tested.
According to Anthony Fauci, director of the National Institute of Allergy and Infectious Diseases, the United States can expect more cases and deaths. "We have not yet reached our peak."
Globally, there are more than 169,000 confirmed coronavirus cases and more than 6,500 deaths as of Sunday night, according to data compiled by the Center for Systems Science and Engineering at Johns Hopkins University.