Trump urges Michigan governor to settle with anti-lockdown protesters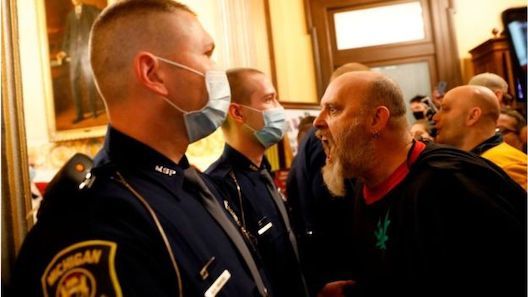 Photo: Dailykos. com
WASHINGTON, May 1 (Xinhua) -- U.S. President Donald Trump on Friday called on the governor of Michigan to talk to and make deal with demonstrators who have been protesting the state's coronavirus lockdown restrictions.
"The Governor of Michigan should give a little, and put out the fire," the president said in a tweet. "These are very good people, but they are angry. They want their lives back again, safely! See them, talk to them, make a deal."
Hundreds of people, some even carrying firearms, gathered at the Michigan State Capitol in the city of Lansing on Thursday to protest the state's state of emergency declaration, of which the legislature was debating an extension at the time due to the continuing spread of the coronavirus.
On-the-scene photos showed that the crowd stormed into the Capitol building, attempting to get onto the House floor as state police and House sergeants blocked them from stepping further. The pursuit of the protest, organized by Michigan United for Liberty, is to reopen the state's economy.
The state's Republican-controlled legislature, voted Thursday night not to extend the emergency declaration before it expired at midnight. They also voted to bring a lawsuit to challenge Democratic Governor Gretchen Whitmer's authority and actions to fight the pandemic.
In response to the lawmakers' decision, Whitmer issued a new order stating that an emergency still exists, while declaring new 28-day states of emergency and disaster.
"Republican lawmakers are putting their heads in the sand and putting more lives and livelihoods at risk," the governor said in a statement following the legislature's vote, adding that "I'm not going to let that happen."
Asked about Trump's tweet Friday, White House Press Secretary Kayleigh McEnany said during her first press briefing at the West Wing that the American people have a constitutional right to protest but must protest within the bounds of the law.
The president "encourages everyone to protest lawfully and also to engage in our social distancing guidelines which we think all Americans should engage in," McEnany added.
One of the hardest-hit states in the country, Michigan reported 42,356 COVID-19 cases as of Friday, according to data compiled by the state government.