US governors call on colleges to provide students with COVID-19 tests before Thanksgiving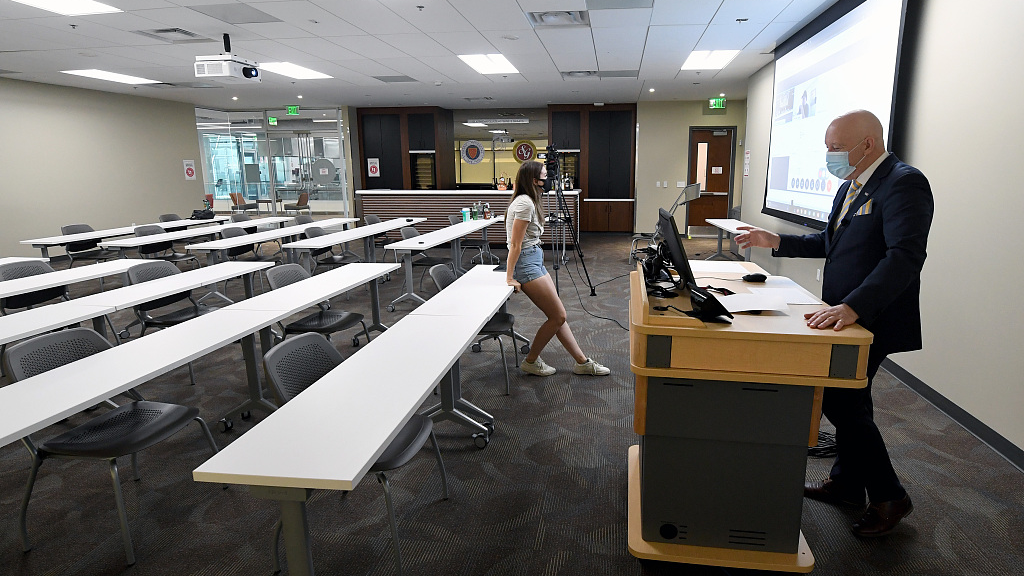 NEW YORK, Nov. 18 (Xinhua) -- Colleges and universities in seven U.S. northeastern states are encouraged to make testing available to all students before they leave for Thanksgiving break and inform students and their families of the states' quarantine requirements, said the governors of those states on Wednesday.
The efforts are aimed to mitigate college-related travel spreading COVID-19, said the governors of New York, Massachusetts, Delaware, Connecticut, New Jersey, Rhode Island and Pennsylvania in an official press release.
"Any student who tests positive before they leave should be permitted to isolate on campus, or may travel safely with the approval of the local departments of health," said the release. "Students who are already isolating or quarantining on campus must remain in place until completing their prescribed seclusion."
In addition, the governors are strongly recommending that colleges and universities finish their fall semesters by expanding remote instruction, enabling more students to learn from home for the few weeks between Thanksgiving and winter break rather than require students to travel back to campus and then back home again in December.
"Half of colleges and universities across the northeast have already indicated they will be fully remote between Thanksgiving and the end of their fall semester," said the release. "Colleges and universities should prioritize on-campus programs for students who did not travel or who need in-person exams or clinical and laboratory experiences."
New York State Governor Andrew Cuomo said that "As everyone predicted, cases are rising as temperatures drop, and New York is not immune. With the holidays approaching, we are fighting 'living room spread' from small gatherings in private homes -- and adding college students' interstate travel will be like pouring gasoline on a fire."
"We know this virus does not respect borders, which is why governors from across the region are working together to stop the spread. Colleges and universities have to do their part by testing all students before they leave, informing them about quarantine rules, and keeping classes online between Thanksgiving and Winter Break. We beat back the COVID beast in the spring, and by working together we can do it once again this winter," he added.
Meanwhile, the release said, if colleges and universities do reopen for in-person instruction during this period, all returning students should receive COVID-19 tests and comply with relevant isolation and quarantine protocols. These institutions should also double down on precautions including frequent health screenings and surveillance testing due to the increased risk of COVID-19 exposure from student travel.
New York Governor Andrew Cuomo, New Jersey Governor Phil Murphy, Connecticut Governor Ned Lamont, Delaware Governor John Carney, Pennsylvania Governor Tom Wolf, Rhode Island Governor Gina Raimondo and Massachusetts Governor Charlie Baker jointly made the announcement, as COVID-19 cases surge nationwide in winter days, including the seven states.
The United States reported 164,382 new COVID-19 cases and 1,602 new deaths on Tuesday, according to data updated by the U.S. Centers for Disease Control and Prevention on Wednesday.
It marks the 10th consecutive day that daily case count surpassed 100,000. Tuesday's case count pushed the 7-day average daily case increase to a record-high of 161,398.