Turkey expects peak of COVID-19 outbreak in coming weeks: minister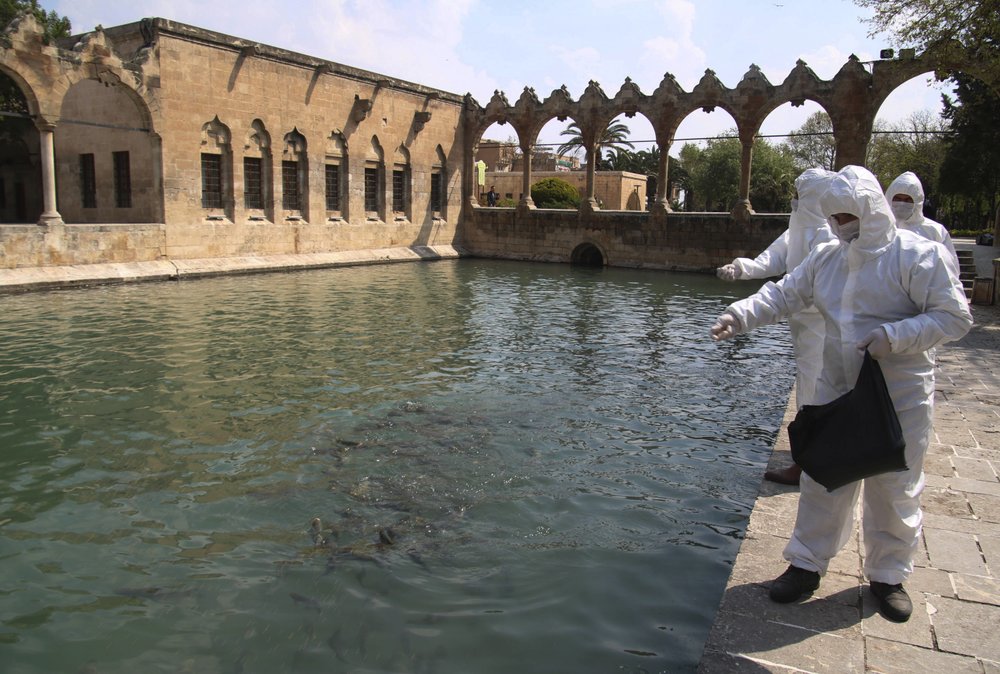 Municipal workers wearing protective face masks and suits as a preventive measure against the spread of the coronavirus, feed the fish on the iconic Balikligol lake in the city of Sanliurfa, southeastern Turkey, Wednesday, April 8, 2020. (Photo: AP)
ANKARA, April 14 (Xinhua) -- The peak of the COVID-19 outbreak in Turkey is expected to come in one or two weeks, Turkish Health Minister Fahrettin Koca said Tuesday.
"I predict that we will see the peak of the outbreak in one or two weeks," Koca told a press conference.
"The speed of the coronavirus is under control," he insisted, citing that the rate of increase in confirmed cases has declined for the fourth week, while the slowdown in the death rate has continued for the fifth week.
The course of the outbreak in Turkey, the second hardest-hit country in the Middle East, is different from the rest of the world, the minister said.
"A decrease in the number of hospitalization, patients in intensive care and patients intubated, with the increasing number of cases has never been seen in any other country of the world," said the minister.
Koca stated that it is expected that Turkey will control the virus spread with the minimal cost given the current data.
Speaking after a coronavirus science board meeting on Tuesday, the minister announced 4,062 new COVID-19 cases and 107 more deaths from the virus in Turkey. The total number of confirmed COVID-19 cases in Turkey rose to 65,111, while the death toll surged to 1,403.
Koca noted that 4,799 patients have recovered since the outbreak of the pandemic, while 1,809 patients are being treated at intensive care units and 1,087 are being intubated.
The minister also emphasized that the rate of increase in new cases is falling thanks to a "filiation system" which tracks down the people who have been in contact with the confirmed COVID-19 cases.
"We have tried to identify and contact people that every confirmed patient has been in contact with over the last three days," he said.
A total of 261,989 people across Turkey were determined to have been in contact with confirmed COVID-19 cases and the tracking team has reached 96 percent of them, the minister stated.
"The fact that the rate of increase in the cases declined is a sign that we are on the right track in the fight, that the measures are yielding results," Koca stated.
He appreciated the Favipiravir drug imported from China and hydroxycloroquine in treating COVID-19 patients, noting that these drugs have been proved effective in treating patients at early stage of the disease.
Turkey used the drug in initial treatment of the cases before they enter intensive care phase, although China uses it during intensive care unit treatment.
Turkish health authorities also prefer to delay the intubation process for the treatment of the novel coronavirus.
Asked about the plasma treatment, Koca said that the studies are mainly carried out by Turkey's Red Crescent and that many universities were authorized to apply these plasmas to the patients.