Netizens protest US hype of doctor Li Wenliang's death to defame China
People's Daily
1590915857000
Chinese netizens on Sunday protested against the US' continued hyping of doctor Li Wenliang's death to attack China, saying the US should find fault with itself and reflect on George Floyd's death rather than point its fingers at others.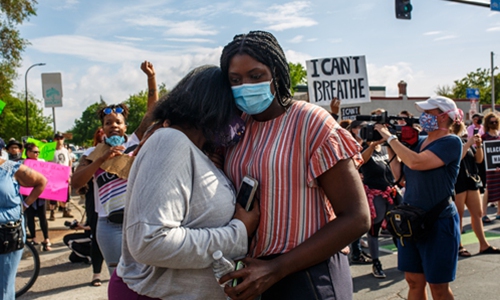 People hold signs and protest during a rally after a Minneapolis Police Department officer allegedly killed George Floyd on Tuesday in Minneapolis, Minnesota. A video of a handcuffed black man dying while a Minneapolis officer knelt on his neck for more than five minutes sparked fresh furor in the US over police treatment of African Americans. (Photo: AFP)
Some Net users suggested renaming the road near the US Embassy in Beijing as Floyd Road in commemoration of the victim of US racism and police violence.
Fu Xuejie, the wife of late doctor Li Wenliang, has voiced her opposition to a US lawmaker's push that calls for the street in front of the Chinese Embassy in the US to be renamed Li Wenliang Plaza, saying she was "very sad to hear that."
Fu posted on China's Twitter-like Sina Weibo that Li had a deep love for his country, and no one should use his name to harm it.
"Li was part of a precious memory but also the largest trauma for my family. I don't want anyone to use him to hype a certain view," Fu wrote.
Li, an ophthalmologist at a hospital in Wuhan and member of the Communist Party of China, was one of many people, mainly medical professionals, who tried to raise the alarm about the novel coronavirus in the country. He became infected with the virus at work and died on February 7.
The US has been using Li to attack China in the past months, including pushing a Congress bill to commemorate him in April and a proposal early May to rename the street in front of the Chinese embassy.
Chinese netizens have become tired of the US pointing fingers at other countries while continuing to ignore its own failure in tackling domestic problems, including long embedded racism.
Amid recent nationwide protests against police violence that killed African American George Floyd in Minneapolis, some proposed on social media renaming Beijing's Liangmaqiao Road, which is near the US embassy in China, to Floyd Road in commemoration of the deceased man.
"Poor Americans die of coronavirus or racism and police violence, the common symptom was 'cannot breathe'," a Weibo user wrote under the US embassy's account after it posted an article boasting of "US leadership in fighting the virus."
Many states in the US have announced curfews and military police were dispatched to quickly silence people demonstrating against violence and racism. "Why does the US ignore African Americans' justified appeals? " wrote another.
A PhD candidate studying in the US, who required anonymity, told the Global Times that racist and populist sentiments have been growing in the US over the past years under the Trump administration.
"Floyd's death is kind of an inevitable tragedy after years of instigation of white supremacy and populism," he said.