Abortion bans: The women on trial for having a miscarriage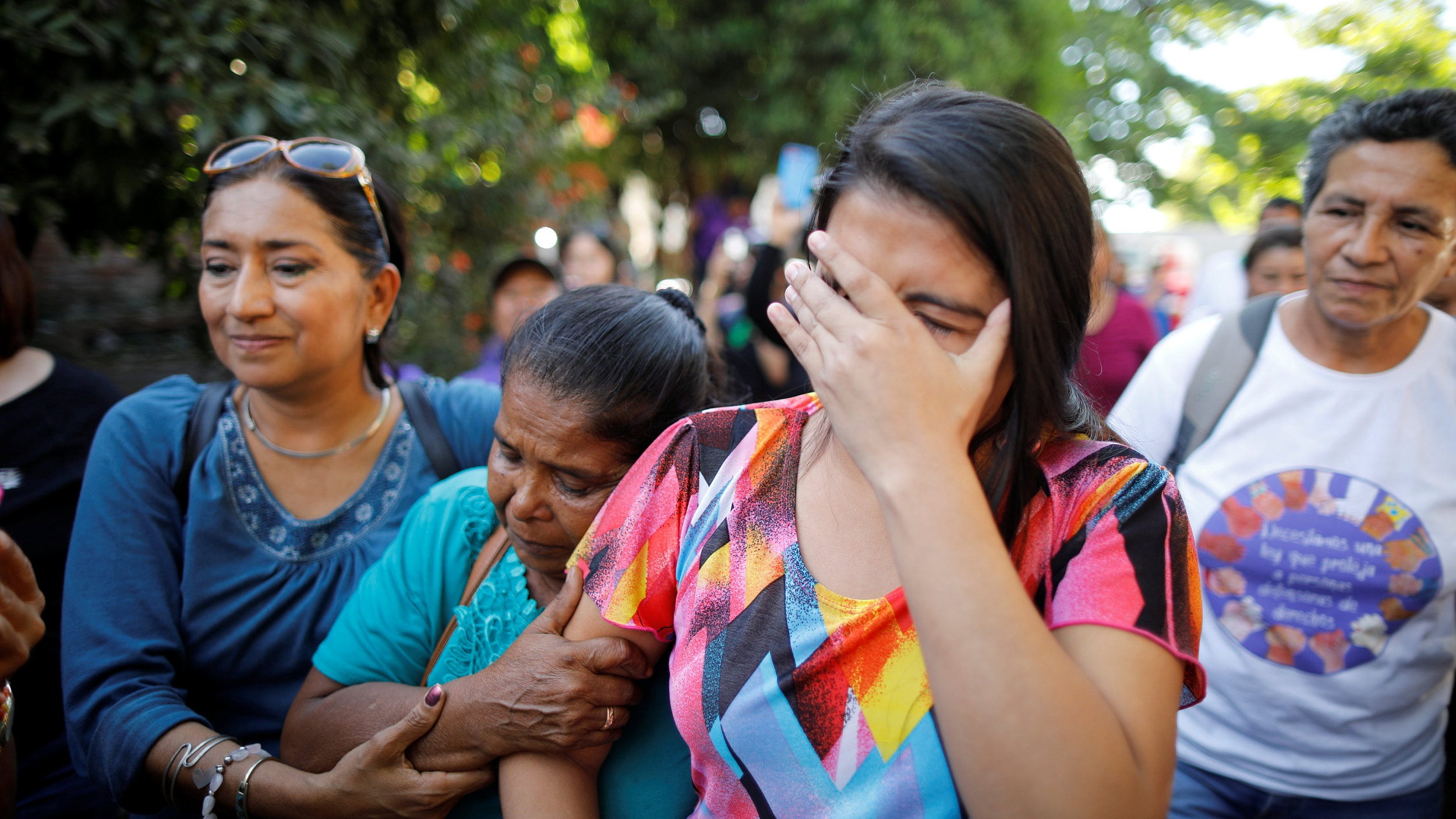 Imelda Cortez, a Salvadoran woman charged with aggravated murder under the country's abortion law, reacts after being acquitted in Usulutan, El Salvador, December 17, 2018. ( Photo: VCG)
Evelyn Hernandez, a young Salvadoran maid, was sentenced to 30 years in jail in 2016 after she had a miscarriage. The 21-year-old has now been afforded a retrial, which resumes on Thursday, but she still risks decades behind bars.
She is not a unique case. All around the world, dozens of women have been prosecuted or imprisoned for terminating an unwanted pregnancy, as countries and courts have taken banning abortions to an extreme.
Hernandez said she was raped by a gang member but did not know she was pregnant when she suffered severe stomach pains in April 2016. She miscarried in a bathroom and passed out. When she was brought to hospital, staff accused her of having had an abortion and reported her to the authorities.
El Salvador bans all terminations, even in the case of rape or where the mother's health is at risk, and Hernandez – who has always claimed her innocence and said she would have "awaited (the child) with pride and with joy" if she had known she was pregnant – was sentenced to 30 years for aggravated homicide.
The Supreme Court ordered a retrial in February, citing insufficient evidence, but a new guilty verdict could still mean 30 to 50 years behind bars.
Although terminating a pregnancy is punishable by up to eight years in prison under Salvadoran law, prosecutors often push for the much harsher homicide charge.
Hernandez's case is just the latest to make headlines in El Salvador.
In March, three women had their sentences commuted by the Supreme Court and were released from prison, having already served between nine and 11 years. They too had been jailed for aggravated homicide after suffering miscarriages. The court deemed the sentences "disproportionate and immoral," reports said.
In all, 147 women were jailed in the Central American country between 2000 and 2014 for terminating a pregnancy, with just 39 freed on appeal, according to the Citizen Group for the Decriminalization of Abortion (CFDA), a local advocacy group.
Since 2014, 146 new cases have been prosecuted, with 60 ending in jail sentences, 24 of them for aggravated homicide, the CFDA found.
A worldwide problem
Not just El Salvador has taken such drastic measures.
An Indonesian court last year sentenced a 15-year-old girl who had been raped by her brother to six months in prison for getting an abortion.
She was released after her case made international headlines. "While she did have an abortion, the circumstances forced her to do so," the local court in Sumatra ruled. Terminating a pregnancy is allowed in Indonesia in cases of rape or for health reasons, but otherwise carries a jail sentence of up to 10 years.
In Argentina, a young woman was sentenced to eight years in prison for aggravated murder in 2014 after she suffered a miscarriage. Only a nationwide campaign and calls by the United Nations helped get her released and acquitted two years later.
Malta, the only EU country to still ban abortions outright, has prosecuted three women since 2006 for terminating a pregnancy, Home Affairs Minister Michael Farrugia disclosed earlier this year. The women received suspended sentences of up to three years. One of them, a 30-year-old Tunisian woman, had swallowed pills to induce an abortion.
From Tonga to Honduras, there have been more reports of women being arrested and tried for seeking an abortion.
Meanwhile, Senegal, the Democratic Republic of Congo and even developed nations like Andorra and Liechtenstein still have laws on the books that prescribe jail sentences ranging from six months to 10 years.
In all, 26 countries – including the Philippines, Egypt, Laos and Madagascar – still ban abortion no matter what the circumstances, while over 100 allow it only when the mother's health is at risk, according to the Guttmacher Institute.
A glimmer of hope
In the case of El Salvador however, women's rights groups see some cause for hope.
President Nayib Bukele, who took office in June, has shown signs he might support modifying the law.
"If a poor woman has a miscarriage, she's immediately suspected of having had an abortion," he said last year. "We can't assume guilt when what a woman needs is immediate assistance."
Now Hernandez's retrial is being seen as a test of his willingness to push through reform.