The latest: COVID-19 outbreak worldwide (Updated April 20)
People's Daily app
1587347781000
Globally, as of 2:00am CEST, Sunday, there have been 2,245,872 confirmed cases of COVID-19, including 152,707 deaths, reported to WHO.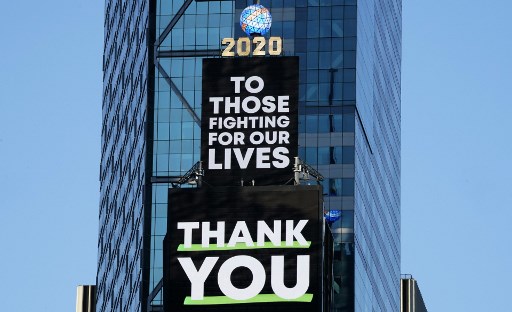 One of the nearly 1,800 digital billboards and screens across all five boroughs are displaying messages of public safety, gratitude, pride, and solidarity with essential workers as seen in Times Square April 19, 2020 in New York. (Photo: AFP)
Current status (data as of 10:00 am BJT, April 20):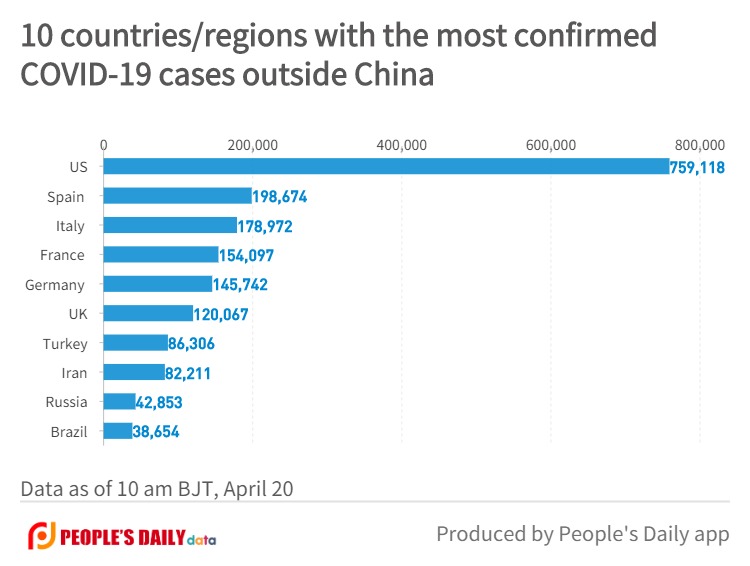 Sources: Xinhua, Johns Hopkins University, national public health agencies.
The outbreak has now claimed the lives of at least 40,665 people in the US, the most of any country. The US also leads the world in the number of confirmed infections with 759,118, according to a tally by Johns Hopkins University as of 8:38 am BJT on Monday.
Spain is the next most-affected country with 198,674 confirmed infections and 20,453 fatalities, according to Johns Hopkins.
It is followed by Italy with 178,972 confirmed infections and 23,660 deaths, France with 154,097 infections and 19,744 deaths and Germany with 145,742 infections and 4,642 deaths.
The death toll of those hospitalized in the UK who tested positive for the novel coronavirus hit 16,060 as of Saturday afternoon, a daily increase of 596, the Department of Health and Social Care said Sunday. As of Sunday morning, 120,067 people have tested positive for the virus, marking a daily increase of 5,850, said the department.
Turkey on Sunday announced 127 new deaths from the novel coronavirus, raising the official death toll to 2,017. Health Minister Fahrettin Koca tweeted an image showing there were 3,977 new cases of COVID-19 infection in the past 24 hours, bringing total reported infections to 86,306.
Iran on Sunday announced 87 new deaths from the novel coronavirus in the past 24 hours, raising the official toll to 5,118, as it takes steps to reopen the economy. Health ministry spokesman Kianoush Jahanpour said 1,343 new infections had been confirmed, taking the total to 82,211.
Russia has registered a new daily record of 6,060 COVID-19 cases over the last 24 hours, raising the total number to 42,853 as of Sunday, official data showed. The death toll climbed to 361 from 313 the previous day, while 3,291 people have recovered, including 234 in the past 24 hours, Russia's coronavirus response center said in a statement.
Brazil, with a population of 210 million, has recorded 38,654 infections and 2,462 deaths.