Australia fires: Military to be deployed to help rescue effort
Australia has launched a major operation to reach thousands of people stranded in seaside towns after deadly bushfires ripped through popular tourist areas on New Year's Eve.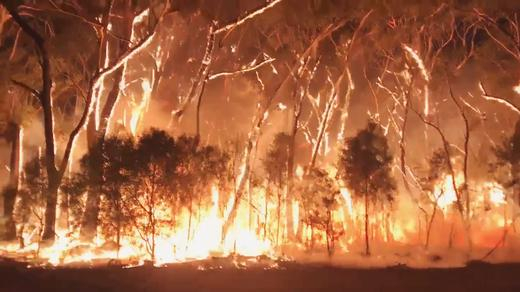 A fire blazes across bush in Newnes Plateau, New South Walles, Australia, December 7, 2019. (Photo: CGTN)
As emergency-level fires spread, thousands of people fled to beaches in the southeastern states of New South Wales and Victoria, the two worst-affected regions. Navy ships and military aircraft were deployed alongside emergency crew on Wednesday to provide humanitarian relief and assess the damage from the bushfire. The total death toll of the fire reached 12, with more than 1,000 homes destroyed and 5.5 million hectares scorched.
Emergency services faced great challenges trying to help injured people, according to New South Wales Rural Fire Service Commissioner. Some emergency service members suffered burns in the operation.
In the town of Mallacoota of Victoria, about 4,000 people sought shelter on the coast as fires tore through the area.
Cold temperatures and lighter winds provided a window of opportunity for relief efforts on Wednesday, but there were concerns over new fires sparked late Tuesday in alpine regions.
For more than two months, deadly bush fires have been burning out of control across Australia and engulfing whole towns. Authorities warned the fire danger would spike again on Saturday. Firefighters were racing to take advantage of the mild weather to contain dozens of blaze.
The wild bushfires led to street protests in Australia calling on the government to immediately act on climate change. Much of the criticism focused on the government's support for coal-fired power plant.
Most of the rescue workers are trained but unpaid volunteers. Though there were calls for greater funding of firefighters, Prime Minister Scott Morrison rejected the call saying existing resources were sufficient.