UK real pay falls at record pace amid high inflation
LONDON, Aug. 16 (Xinhua) -- Real pay among employees in the United Kingdom (UK) in April to June this year fell at the fastest pace in more than two decades, with wages outpaced by persistently high inflation, official data showed on Tuesday.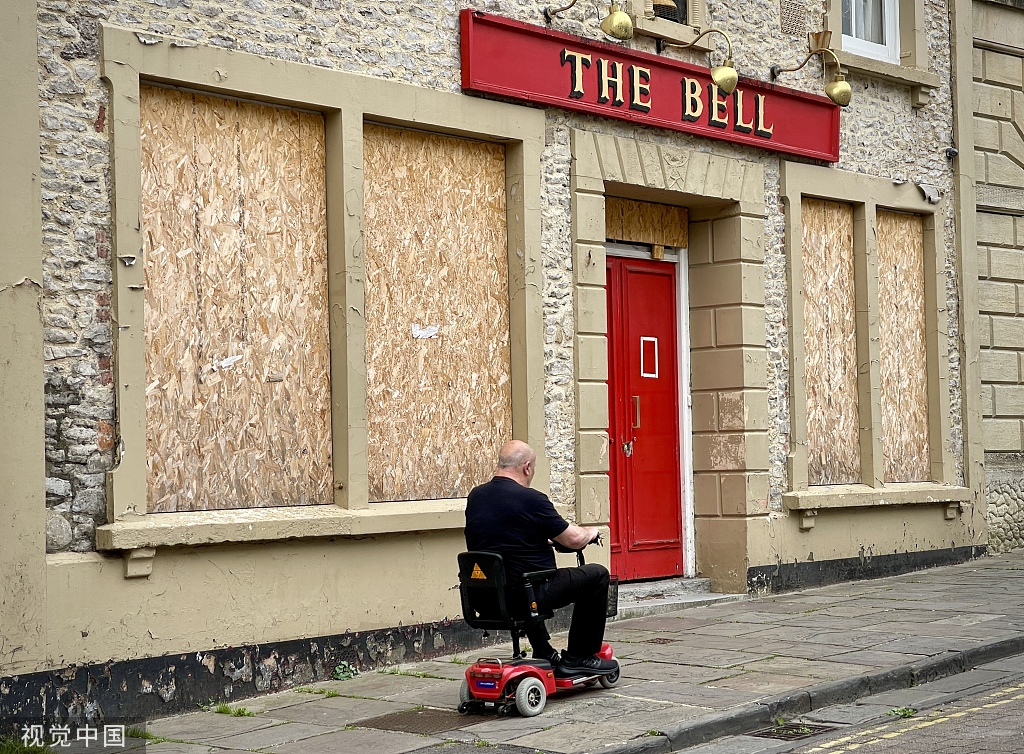 REAL PAY SHRINKS
While growth in regular pay excluding bonuses was 4.7 percent among employees in April to June 2022, it fell by 3.0 percent after taking inflation into account, according to the UK's Office for National Statistics (ONS).
"The real value of pay continues to fall," said ONS Director of Economic Statistics Darren Morgan. "Excluding bonuses, it is still dropping faster than at any time since comparable records began in 2001."
High inflation in the UK still shows no sign of easing. Amid rising prices for motor fuels and food, the country's Consumer Prices Index (CPI) rose by 9.4 percent in the 12 months to June, hitting a fresh 40-year high.
CPI inflation is expected to rise more than previously forecast, from 9.4 percent in June to just over 13 percent in the fourth quarter of this year, said the Bank of England (BoE) in early August. It will remain at very elevated levels throughout much of 2023, BoE added.
BoE governor Andrew Bailey has recently warned against workers asking for pay rises in line with inflation. "If everybody tries to beat inflation, both in price-setting and wage-setting, it doesn't come down, it gets worse," he told the media.
However, Paul Craig, a portfolio manager at London-based Quilter Investors, said: "While Andrew Bailey won't want to see pay rising too quickly, we are headed for a difficult winter where some parts of the population will be struggling with energy bills and the cost of food."
If inflation continues on its trajectory to the forecasted 13 percent, "this is only going to exacerbate the situation further," Craig added. "The pay demands we have seen in the public sector of late are only going to get louder."
COST-OF-LIVING CRISIS CONTINUES
Amid surging prices, British households are feeling the squeeze. Three-quarters of adults in Great Britain have reported being very or somewhat worried about rising costs of living in the past two weeks, according to an ONS survey in late July.
"There is lots of evidence that the cost-of-living crisis is becoming more prolific and more serious. Obviously, we haven't yet hit winter, so the energy bill crisis is not as visible as it no doubt will be in a few months' time," Patrick Diamond, professor of public policy at Queen Mary University of London, told Xinhua.
In early August, the UK's energy regulator Ofgem confirmed the energy price cap will be updated quarterly rather than every six months, warning that "customers face a very challenging winter ahead."
Peter Smith, director of policy and advocacy at charity National Energy Action, said Ofgem's quarterly price cap changes weren't necessary, and mean that "further significant price increases in January are inevitable."
A typical household is now predicted to pay the equivalent of 4,266 pounds (5,162 U.S. dollars) a year in the first three months of 2023, according to new forecasts for the energy price cap from the market research firm Cornwall Insight.
New research by Ipsos shows two-thirds of Britons say the UK Government is not providing enough support for the cost of living, up from around half who said the same in late May this year, according to Cornwall Insight on Tuesday.
"Everything's rising, petrol, houses. Everything is so expensive. People at the moment can't afford anything. Inflation is really bad," Paula, a London resident, told Xinhua. "We can't save for many years now. It's a nightmare." (1 pound = 1.21 U.S. dollars)